Thank you!
Dear Friends,
It is hard to put into words the gratitude that Heather and I feel as we come to the end of our time in Axbridge, Shipham and Rowberrow. It has been an extraordinary privilege to be part of such a wonderful welcoming and loving community, and leaving will be a huge wrench. Our last services in the Benefice will be on Sunday 11th April. With the current restrictions still in place and social distancing essential, I'm afraid that people will need to book in to come as numbers are limited, but we hope to be able to say farewell properly.
From the very beginning of our time here we have been made to feel at home and even before we had arrived we had been written into the pantomime Ciderella that Axbridge Community Theatre were putting on. I had been cast as Hymn Talking and Heather as Forever Talking! Jenny Parker had obviously been tipped off!!
I had always known about the area and it was lovely to see from the car park of Shipham Village Hall the two places where I lived until I left for university. My ancestors have farmed in the area along the coast from Brean Down to Burnham for more than 300 years, and one great uncle even worked the land at Paradise Farm! I had known Axbridge, where we came to the Oak House for a number of special family celebrations. So it really felt like coming home.
Here we are 15 or so years later, and we are wondering where all that time went. There have, though, been so many memorable moments along the way, together with so many changes.
As a family we have both grown and shrunk, with one daughter, Rachel, getting married, and the arrival of five grandchildren, two of which were born in November and able to appear as live babies in the crib at Christmas. Sadly we have also lost two parents in that time. As church congregations we have also seen many special people go, and come too.
As well as the three lovely church congregations, I have always felt that the two first schools at Shipham and Axbridge, and St Michael's Cheshire Home where until last year we have had weekly services in the chapel, have been like family too, not forgetting the welcome received at Axbridge Court and Daneswood.
For Heather she has loved being part of the Benefice choir and singing twice in the magnificent Bishop's Chapel in Wells, being part of the Mothers' Union and Messy Church, and making cups of coffee at the school services. For the first 7 years she was a Supply Teacher, often at Cheddar First School, and since then has been practising being retired! There have been opportunities to join French speaking, piano, and art classes, and be part of a sewing group.
We have also loved the special annual outdoor events like the Cross Walk on Good Friday and Beating the Bounds at Rogationtide, as well as the magical feel of Easter Eve in Rowberrow Church. There have been some wonderful Harvest Suppers at Shipham, the Lunch Bunch for Save the Children and visits to Lenny's, and the Rowberrow Fetes.
Perhaps one of the most powerful memories was being part of the Axbridge Pageant in 2010, and feeling a part of the great ebb and flow of history that has made this area what it is. We are sorry that the scheduled 2020 one had to be postponed in this challenging and extraordinary pandemic year.
We live in an area of outstanding natural beauty, and still slow down on the lane to Rowberrow to enjoy the wonderful views across the Bristol Channel. Mind you sometimes the wildlife has come a bit too close for comfort. Like the time when we found a horse in the drive. Luckily Rachel was able to lead it across town back to its owner! Or when we found a sheep just before Christmas in a flower bed - perhaps it was auditioning for the nativity! Last year we had a great crop of cherries and marched out with two of the grandchildren and collecting tubs to pick some, only to find that the jackdaws had stripped the tree completely. I also disturbed a pair of young badgers in the front garden late one night as I took the dog out for a wee. One went at speed down Cheddar Road, and one charged inside the house. I closed the door and shouted up to Heather that if she wanted to see a badger, there was one downstairs!
Of course there are plenty of 'what ifs', and sadness that the church is in a weaker state both nationally and locally than it was. 50 or so years ago a sociologist Peter Berger wrote a book 'A Rumour of Angels' and it is the job of the church to keep that rumour of angels alive. I still do firmly believe that there is Good News to be found in the Gospel of Jesus, that can make us whole; and I believe that the church is built not with bricks and stones, but with people who offer themselves to God and in loving service to others.
It was back in 1981 that I was ordained and became a curate in Wolverhampton. Lockdown hair was normal then! Margaret Thatcher was in the early years of her tenure and the following month Charles and Diana were married. Almost 40 years on, it is high time to retire and say goodbye.
So thank you and may God hold you and bless you all!
with Love and Prayers
Tim
---
Thought for March 2021: Asking The Big Questions
Dear Friends,
My time in the Benefice of Axbridge, Shipham and Rowberrow is rapidly running out. It will soon be Easter and retirement comes the week after on 11th April. Where have those last 15 years gone, I ask?! It will certainly be a huge wrench to leave. Heather and I have loved living here. One of the jobs I am slowly working my way through is to try and clear some of the clutter that has built up over the years, not least the books, files, and paperwork. As I do so I have found myself asking some of the big questions that get lost in the day to day busyness.
I am writing this on Shrove Tuesday as Lent is about to begin. This too is a time for all of us to clear the decks and allow the important questions of life to come to the surface. Who made me? What am I here for? What is the purpose and direction of my life? Who do I love? What does it mean to be a disciple of Jesus?
We should also be asking what we allow to get in the way of being able to do this. What do we use to distract ourselves from the important – is it television, social media, alcohol, overeating, just being busy, or something else…?
Lent is not meant to be a harsh searchlight, though, there to find us out, and expose the shame we carry. It is intended to give us chance to rediscover the merciful and kind God who loves us. The gospel of Jesus is full of the opportunity to start again, to find forgiveness, to choose the way of life and hope, and to discover the Spirit who goes with us.
This year we are more aware than ever of the importance of our mental health and well-being on that journey. The BBC have just launched a section on their website they call Headroom. We are told that 1 in 4 people experience mental health problems, depression and anxiety, in a normal year - and this has been a year like no other! Where do you find that room to breathe that you need, and that resilience to thrive?
March promises a gradual easing on the journey back to some kind of normality as the Covid-19 figures continue to move in the right direction and as the amazing vaccination programme continues. We await the government decisions on how this will happen, and pray for them as they do so. It seems clear that schools will be open again to more than just a handful of children, and perhaps by the end of the month the economy will slowly start to move again as shops and pubs – and churches! - reopen. We will no doubt have to be patient in how that unfolds, and hopefully remember the lessons we have learnt along the way.
Stephen Cottrell became Archbishop of York in October of last year. In his enthronement sermon he said,
"Let's put this sign up outside our churches. Let's wear it on our sleeves and declare it to the world: Everyone is welcome. Here is a place and here is a people where you will be safe, where you will be loved, where you will be accepted. This is where you will find hope for the world and a new vision for a new humanity. Enter here and be changed. Not into somebody else, but into the beautiful person you are meant to be. Then join with us in changing the world."
One thing that the past year has taught us, loud and clear, is that our faith is not bound to buildings alone, but is to be found in a relationship with the God of love.
---
Thought for February 2021: Lent in Lockdown
Dear Friends,
Lent officially begins on Ash Wednesday 17th February, and runs through to Easter, but in truth it feels as though we have been in a kind of Lent for the best part of a year now. We will almost certainly begin Lent in Lockdown, but hopefully the roll out of vaccinations will help us to know that there is indeed light at the end of the tunnel.
Lent is a season when we are encouraged to follow Jesus by pressing the 'pause' button, taking some time out, dealing with whatever arises and praying for a new and deeper sense of clarity and purpose for our lives, as we think of Jesus' time in the wilderness. The way we do this is not by adding to our tasks or making an especially heroic effort, but by clearing our diaries and our minds, calming our hearts and our nerves. With unusually empty diaries this year, and our fingers already firmly on the pause button, Lockdown gives us a greater opportunity than ever to do this.
I've ordered four books to read, which I hope will help, and commend them to you.
The first is by Rowan Williams, the former Archbishop of Canterbury. It's called Candles in the Dark: Faith, Hope and Love in a Time of Pandemic. It brings together 26 weekly meditations he wrote for the congregation of his local parish church, which were originally posted online during lockdown in the first wave of the pandemic. It promises comfort for anyone looking for some light in these dark times. I'm told that it is written with warmth and compassion, and offers hope and encouragement. The meditations "will leave you spiritually uplifted and with a strengthened faith to guide you through whatever may come." I think we probably all need some of that!
Rooted in Love: Lent Reflections on Life and in Christ is edited by Sarah Mullally, who is Bishop of London. Before ordination she was England's Chief Nursing Officer, and NHS's Director of Patient Experience. So she has been well placed to be the lead bishop of the Church of England Recovery Group negotiating with the government during the pandemic. The book offers 40 reflections that lead us into finding some thoughts on the questions: Who is the Christ we serve? What does it mean to be part of the body of Christ? How can we live more Christ-centred lives? Each reflection includes a Bible reading, a prayer and a suggestion for action based on the reading.
I'm really looking forward to a new book from Sister Wendy Beckett, although she died in 2018. The Art of Holy Week and Easter brings together some of her writings as she explores the spiritual riches of some of the world's greatest paintings of the Passion and Resurrection of Jesus, no doubt laced with plenty of her irrepressible wisdom and enthusiasm!
The final Lent book, Thy Will Be Done, by Stephen Cherry, intends to be a help and encouragement with our prayer. It's an invitation to deepen our relationship with God through the best known of all Christian prayers, the Lord's Prayer.
(If you would like me to order a copy of any of these for you, the best price I can get is £7.99 each. Let me know if you need my help.)
If February is indeed the month of love, as the front cover of Catch this reminds us, how might it inspire us not just to find some hope and love for ourselves, but share it more widely with those suffering from loneliness and fear in isolation?
---
Thought for December 2020: O Come, O Come Emmanuel
Dear Friends,
Christmas hasn't been cancelled, but it will be different!
At the time of writing, during our second lockdown, we are not sure how things will look, and what will be allowed, but it is clear that our big Christmas services will not be able to take place in church this year with the expected restrictions on numbers that can safely meet together.
Sadly this includes the ever popular Christingles on Christmas Eve at Shipham and Axbridge. Instead we are encouraging you to make your Christingles as usual, but light them at home as we celebrate together in a different way. We will post our service on YouTube at 4pm on Christmas Eve and hope that lots of you will be able to join us. (Look up Axbridge and Shipham Christingle.)
So too with the Benefice Carol Service on 20th December and Rowberrow's Carols by Candlelight on Christmas Eve. These will be recorded in advance and posted on YouTube at the time we would normally be in church.
The Midnight Mass at Axbridge and Christmas morning services at Shipham and Rowberrow will hopefully take place and you will need to book in your place in advance.
Our churches will still be decorated as always with flowers, candles and the Christmas tree, so please come in and visit for private prayer as we sense the wonder. The church is open every day from 9.00am to 4.00pm (and we hope later in the week before Christmas).
We are also joining in the initiative of decorating our windows with a Christmas theme so that others can see why we love Christmas. Wedmore have done this for the last two years (in their Living Advent Calendar) and it has been a joy to wander round the village and see the ingenuity of people and capture the wonder of the season. Axbridge is also having a hunt the angel trek. See how many you can spot in windows around the town.
We may not be able to sing our Christmas Carols in the normal way, but the Church of England is inviting you to "Comfort and Joy" Nine Lessons and Carols for Christmas from Christmas Eve until 2nd January as we hear the timeless message of the angels in these extraordinary times. Look up the website for the daily reflections which are available online and as a booklet.
One of the great carols we sing during Advent in our preparations for Christmas is O Come, O Come Emmanuel. It was written over a thousand years ago and has been sung by many generations. It is full of a deep longing for God to come and "cheer our spirits by your Advent here". The carol is set in a minor key, so has a sad air that is perhaps in keeping with where we are this year. It's been a difficult year for most of us, a time that none of us asked for, and a time that has shaken us. So we long for God's light to come and shine in the darkness. After each yearning verse, the chorus comes back "Rejoice, rejoice. Emmanuel shall come to thee, O Israel!"
However you are able to celebrate, and with whom, I hope you will find God's presence and peace and that his love may be real to you.
---
Thought for November 2020: Lest We Forget
Dear Friends,
We have had to learn to do all sorts of things differently and creatively this year. The most recent example of this is how to keep Remembrance Sunday in a respectful but safe way. This year it falls on 8th November. It is usually a day when the Armistice services draw large crowds at all of our churches. Sadly the services at Shipham and Axbridge cannot happen in a properly distanced way and have been cancelled. St Leonard's and St John the Baptist will be open over the Remembrance week-end, and you are encouraged to come at some time for your own private thoughts and prayers. With a smaller number of people involved at Rowberrow we can accommodate just over 20 at the 4 o'clock service, but places will need to be booked in advance.
We are able to have simple ceremonies observing recent government guidelines. Members of the armed forces and veterans, including members of the Royal British Legion, together with representatives of organisations in our community, will be allowed to muster around the War Memorials at Axbridge and Shipham at 10.45am. The names of the fallen will be read and the two minute silence kept, before wreaths are laid. The Last Post and Reveille will mark the beginning and ending of the silence. Some townspeople may want to be in the Square, but we really cannot actively encourage that. It is of course possible that between now and then the guidelines may change, in which case we will do our best to let you know.
So instead we are encouraging you to mark Remembrance Sunday in two ways.
Firstly it would be wonderful if you could make a large poppy for your front window. The Royal British Legion has developed an A4 poster of the iconic Remembrance Poppy that you can download, print, colour in, and then display at home, perhaps in your front window. (Look up 2020 Poppy Appeal how to do this.) Or perhaps something homemade would be very special.
Poppies for your lapels will also be available in a variety of places, including our churches and some shops, but donations for the work of the Royal British Legion will have to be made online. This year is the 99th year of wearing poppies and we are reminded that this is an important way of funding the Legion's support of veterans.
Secondly, as communities we cannot gather to pay our respects in the normal way, but we are urged to observe the national two minute silence from our garden or pavement outside our house at 11am on Sunday 8th November. We hope many people will take this opportunity to pause, reflect and remember those who have given their lives, but also all who served then and now. As together we count the cost of war, we pray for peace in our world today.
We showed our gratitude to the NHS on Thursdays at the beginning of the pandemic with clapping at 8pm. That proved to be a very moving way of showing our communal thanks. So this could be equally powerful.
At the end of the Silence, the Kohima Epitaph is said. The words are carved on the Memorial of the 2nd British Division in the cemetery of Kohima in North-East India, after one of the fiercest battles of the Second World War, and are attributed to John Maxwell Edmonds. I hadn't realised that they are thought to have been inspired by an epitaph written by Simonides to honour the Greeks who fell at the Battle of Thermopylae in 480BC.
When You Go Home,
Tell Them Of Us And Say,
For Your Tomorrow,
We Gave Our Today.
---
Thought for October 2020: The Last Shall Be First
Dear Friends,
Here we are. Another month has gone by and the threatened second spike is happening. I wonder what is on your mind as we look towards October.
In the past few months we've lived through times that have placed unprecedented limitations on what can or can't be done. We've been cut off from friends and family and had to learn new ways of keeping in touch. We have been locked out of doing 'normal' things, including church, for long periods. We have seen dates in the diary crossed out and plans come to nothing. We have lately been enjoying a bit more freedom, which now seems very fragile.
We have had to trust in the wisdom of those who carry the responsibility for making huge decisions that will affect the health and finances of our country for a very long time. Leaders have had to dig deep to find the energy to do the thinking that ensures decisions are as well informed and as sound as they can be in uncertain times. They have had to take the flack that comes from those who feel overlooked, or think they could have done things better.
We now wonder what some of our annual milestones of autumn and winter, including Christmas, will look like. Who knows?!
It's not surprising if our heads have become a fairly cluttered space, and thoughts of tomorrow keep us from sleeping well at night, or seeing outside the foggy window of our own perspective.
Yet, in this cluttered landscape, I often find, floating around, snippets of inspiration that calm or relieve these anxious thoughts. This may come in the form of words from scripture, or a piece of soothing music, or a remark spoken by a stranger or friend that stays with us: words of kindness, wisdom, encouragement.
I've been reading again the parable that Jesus told about labourers in the vineyard, which has a strangely contemporary feel. He tells of how some worked their socks off, labouring in the scorching heat all day long, while others spend the day waiting to be given the opportunity to work.
Red Vineyards in Arles 1888 by Vincent Van Gogh
This has a strong resonance with some that have been working flat out during the last six months, while others have had to rely on the government furlough scheme. This has been a life saver for over 8 million people, including some in my family, but it comes to an end this month. We remember those whose employment is still very uncertain, and those who are left feeling unwanted and vulnerable. We remember too, of course, those who have been working at full capacity throughout.
Jesus tells us how, at the end of the day, the vineyard owner gives the same pay to people no matter how many hours they have put in. On the surface it may seem so unfair, but we also know that everyone, ourselves included, needs to eat and be valued and loved.
This parable is about how things work in the economy of God's kingdom, where the last shall be first, and where everything is ultimately about grace. Luckily for us, grace isn't based on human ideas of justice, fairness or getting what we deserve. If God was being fair and just the kingdom would be pretty empty. Grace says, "Look, you can't buy a place in God's kingdom. It's a gift."
As one commentator put it, 'This grace is breathtakingly generous, beautiful, loving and joyful, but also outrageous, disturbing, shocking and uncontrollable.'
Ever present God,
be with us in our isolation,
be close to us in our distancing,
be healing in our sickness,
be joy in our sadness,
be light in our darkness,
be wisdom in our confusion,
be all that is familiar when all is unfamiliar,
and speak of your generous love each new day.
---
Thought for September 2020: Prayer and Hope!
Dear Friends,
The country of Belarus rarely makes the news. Normally you hear the name because of its love of sport, but the recent presidential election and subsequent protests have hit the headlines. President Lukashenko has been in office for 26 years, and was seeking his sixth term in the election on 9th August. As before, he claimed huge popular support with 80% of the vote. What he is less keen to say is that those loyal to him control all of the seats in both houses of parliament, as well as the militia, police, judiciary and media, and that many of the opposition leaders had been imprisoned in the run up. Many Belarusians believe the ballot was rigged, and said enough is enough, and took to the streets in their thousands to demonstrate at great personal risk.
In 1976 I went with a group of 11 other British students to Minsk, its capital, to study for three months at the institute where they trained interpreters. (This was in the days when Belarus was one of the 15 republics of the Soviet Union, and Leonid Brezhnev was in charge.) There were very few foreigners and the locals had very little opportunity to travel, so we were viewed with great curiosity.
I particularly wanted to find what it was like for Christians, having heard about their persecution. It wasn't difficult to find church buildings. They were all around the city, but most of them had been closed for worship and requisitioned for other purposes. The main Catholic church in the centre was being used as a cinema. Others were used as warehouses, and I even saw one used as an aquarium. (In another city I saw one church used as a museum of atheism.) But some were open for worship. But there were only a handful of churches in a city of more than a million. The Orthodox cathedral was open and there was no apparent shortage of old women there to keep the faith alive. They had nothing to lose. There were also a few unregistered churches that met in secret. I managed to get to one of these, which was on the edge of the city, a small house jammed full of people of various ages, particularly men. Not surprisingly they initially viewed a visitor like me with suspicion.
I have returned to Minsk a couple of times, chiefly in 2002 as part of a study leave to see how things had moved on for Christians. Massive changes had taken place since the break-up of the USSR. In 1991 when independence was declared, churches were given a new freedom. There was an explosion of church life and evangelism. Existing churches were being renovated and a huge building programme was underway. I visited one congregation celebrating their 10th anniversary that had grown from nothing to 3,000 members! One Baptist church had planted 16 others across the country and was busy training pastors. The level of energy and commitment to achieve all this was mind-blowing. "God has been good," they said. From a tiny remnant in 1976, now the majority of Belarusians openly identified as Christian.
Instead of finding a church brimming with confidence, though, there was a great tension in the air. Alexander Lukashenko had introduced new laws on freedom of conscience and religious organizations, which were to be brought before parliament shortly after I was there. People were praying around the clock about this. Non Orthodox churches, and particularly those with connections with the West, were under huge pressure. Only groups that had functioned for more than 20 years were to be allowed to register. Meetings like prayer groups and study groups in people's homes were regarded as illegal. The people I met were not given to demonstration and protest. "We are not politicians," said one. They believed that on the whole they were best trying to maintain as respectful a relationship as they could with the authorities. But they were people of faith. They believed in the power of prayer! That was in 2002.
This week the Baptist leaders have again called for prayer and hope. We pray with them. Who knows what the future will bring for this proud little nation?
---
Thought for August 2020: We will go into the house of the Lord!
Dear Friends,
I was glad when they said unto me, 'We will go into the house of the Lord'!
The good news is that we have just celebrated our first 10 o'clock service in Axbridge Church on a Sunday in 18 weeks. Well, that's not strictly true, because Heather and I have been in church on our own for a number of weeks joining the online services from there.
This is an important step forward towards 'normality'. Much as I have enjoyed the camaraderie of online services, it was wonderful to have some face to face worship again! It was good to welcome first a number of people that hadn't been able to access the online Zoom services. If you would like to join us in church, please let one of our churchwardens know.
Our local jackdaws spoiled the bell ringers' return today, though. We are now allowed to ring to welcome worshippers for 15 minutes before a service begins, but when Roy Shallish, the Tower Captain, went to check that all was well in the belfry, he discovered that the wire netting had been chewed through and three very large nests have been made and the place was full of twigs and mess. This will all have to be cleared before ringing can recommence.
There were a number of modifications to our service, of course. We are observing the latest guidelines on hygiene and distancing, so you are met with hand sanitizer as well as a friendly face. Those coming are welcome to bring a face covering, although this is currently not mandatory. Places where people can sit at a safe distance are clearly marked out. Those in church are joined with people at home through the simultaneous online Zoom link, and at the front there was a large screen so that we could see the rest of the congregation who were at home. During lockdown we have had between 50 and 60 people each week. One major change is that we are not allowed singing in church. When it came to the songs we joined in silently or quietly under our breath, which wasn't as difficult as we had thought. No doubt what we are able to do will gradually evolve over time, as we see what works best and what is allowed. Still it was very moving to be part of this little milestone, and a several people were close to tears as they left.
Our Sunday service wasn't quite the first, though. We were able to have a funeral a few weeks ago. It was lovely to enable a family to say their farewell in the way they chose, albeit with a limit on the number of family and friends. We were also glad to welcome our Year 4 children from Axbridge First School for their Leavers' Service just a few days ago. This is another rite of passage that is celebrated in church. Although it was just the children who are leaving and three teachers present, rather than a church packed with people, it was a wonderful occasion.
As well as our 10 o'clock Sunday services there are also plans for an 8.00am Communion service in St Leonard's, Shipham, on Sunday 2nd August, and Midweek Communions and other services, which will follow. These will be advertised. Zoom services will continue for the foreseeable future, not least for those who need to be shielding or self-isolating.
What strange times these have been…The closure of our church buildings has not been easy. We have missed these places we love, which have been hallowed by the prayers of generations. Reopening is a time of restoration. One of the significant moments in Old Testament history was when the Jewish people returned home from exile in Babylon. Many came back having rediscovered and re-imagined their faith. Our own very much shorter exile has been a time for us to re-imagine too. While our buildings have been closed, our churches have been very much alive. We have learned new ways of being together. As we have been unable to do many of the things we have taken for granted, we have had to reassess what really matters, not least our relationships, and more simple pleasures. As the lock-down has lasted longer than we first imagined, we have learned to value the virtue of patience. We have learned to appreciate healthcare workers and those performing essential jobs, particularly those who put themselves at risk for others. We have been reminded of the frailty of life and the gospel hope of a future in God's hands. But for now we are indeed glad when they said…!
---
Thought for July 2020: Portals of Connection.
Dear Friends,
At the time of writing some of the restrictions of lockdown have been eased. Many shops are now open. So too some places of worship are open, not for public worship, but for private prayer, including St Leonard's, Shipham and St John the Baptist, Axbridge. I hope that Rowberrow will be able to follow soon. As one of our parishioners put it, "It's like the exhaling of a held breath", and it is very welcome. We can breathe again. It's a sign that our world is gradually coming back to life, and that we can relate to one another in a less frightened way. We pray, of course, that the changes are measured in such a way with careful distancing and hygiene rules that any risk is minimal.
There is something about a building that has been prayed in for centuries, a place where a community has come together in good times and in bad. When I sit in the nave of Axbridge Church and look up at the ceiling that was plastered in 1636 when Charles I was king, and know that people had prayed in the building for at least two hundred years before that, it's difficult not to feel the presence of past generations. Sadly one of the events that have been postponed this summer has been the Axbridge Pageant, as the communal stories of generations of townspeople unfold in the Square.
"Churches," said Canon Angela Tilby, "are portals of connection." A portal was originally a large and imposing gate or doorway, which you might find in a castle or a cathedral. Now it can also be an access onto information from the internet. In some fantasy games and science-fiction, a portal is a gateway to another world of the past, present, or future, or to an expanded awareness.
Perhaps those who like to visit churches when they are empty find that sense of a gateway to another world, and a feeling of peace from beyond themselves. Celtic Christians have long spoken of meeting God in the thin place, where the gap between this world and heaven is wafer thin, where you feel close to God, and your heart is warmed. For many of us, thin places exist in the rugged beauty of the local landscape. How grateful have we been to live where we are during these strange days! Others may experience thin places through music, poetry or art. I wonder where the thin places are for you?
Heather and I acutely felt that sense of a thin place at Lake Tekapo in New Zealand's South Island, where, in the beauty of the mountains and lake, a tiny chapel of the Good Shepherd was built in 1935 as a memorial to the early shepherd settlers. Inside this small chapel there is a view from the picture window behind the altar which takes your breath away. Peter Hurricks wrote, "somehow the setting and the church combine to speak of God to those who enter and pause in the midst of their busy lives."
But you don't need to travel to the other side of the world to find places where God can meet with us. In the amazing scissor arches and the West front of Wells cathedral, we are encouraged to stop and pause in the midst of our busy lives…to know that this too is a thin place.
God can meet us wherever we are, of course, but reopening our churches for private prayer, as we take the first little steps back to normality, will hopefully allow some of us to come and sense the presence and grace of God. God meets us in all kinds of ways and places—in times of disappointment, when we have reached the end of our tether, as well as in the times of celebration. When Jesus was teaching his disciples about how to pray, he commended prayer in a secret place, behind closed doors. He warned against a showy, public prayer, out to impress. I hope that many of you will be able to find his presence and peace in the portals of connection.
In a meditation or prayer card that we have left for visitors, it says:
This is Holy Space.
God is here—you are welcome.
This is your space to be with God.
Make yourself at home.
Be yourself.
There's no rush.
Let God love you.
Let God know you.
Let God heal you.
Receive from God…
---
Thought for June 2020: And the People Stayed Home.
Dear Friends,
And the people stayed home
and read books, and listened, and
rested, and exercised, and made art,
and played games, and learned new
ways of being, and were still. And
listened more deeply. Some
meditated, some prayed, some
danced. Some met their shadows.
And the people began
to think differently.

And the people healed.
And in the absence of people living
in ignorant, dangerous, mindless
and heartless ways,
The earth began to heal.

And when the danger passed,
and the people joined together again,
they grieved their losses, and made
new choices, and dreamed new
images, and created new ways to live,
and heal the earth fully,
as they had been healed.
I recently came across this meditative prose poem, written in response to the current lockdown by Kitty O'Meara, a retired Chaplain from Wisconsin. It struck a chord and unsurprisingly has gone viral. Perhaps it resonated so deeply with people because it gives us back the sense that not everything is out of our control, and imagines that the future will be better than how things were before.
That, I think, can only happen if we have answered some questions that our enforced slowdown has thrown up. Many of us have become more aware of the song of the birds in our gardens, but have we learnt their wisdom?
Lockdown has been for many of us an enforced time of stopping, of less agenda, less diary. The Biblical principle of Sabbath is just that. It is both an intentional and regular time of stopping, to remind us who we are and whose we are. It goes against the grain of our culture, which teaches that rest is for the weak or lazy. We are led to believe that who we are is what we do. So we try to make every moment count, and avoid stillness even in our leisure and down time. But is New York, the city that never sleeps, really the best model of rich, abundant life?
Lockdown encourages us to believe that there is a different story, one of living more gently and simply. If we have measured a day by how much we got accomplished, stepping out of that can leave us feeling panicky and out of control. But what if slowing down allows good things to happen? What if life begins in rest?
I tend to think of each day beginning the moment I wake up and get going. But the Jewish understanding of a day begins at sundown. This means that everything we do comes first from not doing, but from resting and sleeping. It's a different mindset that we rest first, and then wake up to life. Instead of straining to keep up, doing what our diaries tell us, we begin from a grounded, settled place.
Sabbath is designed to remind us that we are free. We are not called to be slaves whether it's to our job, other people's opinions, or the relentless push for more, or bigger, or better. Sabbath enforces us to stop on a regular basis, to purposely step out of the noise and the relentless, competitive routines, in order to remember who we really are and what really matters to us.
Sabbath is also a great equalizer. So too this pandemic has reminded us that we're all in this together. We are all affected. We are all vulnerable. Nobody gets a special pass. And in this vulnerability our humanity and mortality come into full focus. When we can let that sink in, we realize who we really are.
What a missed opportunity if 'getting back to normal', whenever that might be, means getting back to how everything was before.
---
Thought for May 2020: God Walks With Us - You'll Never Walk Alone.
What sort of Easter have you been having? Almost certainly it's been very different from any we have known before. Easter is normally the best time with churches bursting with flowers, spring colour and joy, and with the fun of Easter egg hunts to follow. But this year it's been the Easter with locked up churches and no church bells (arrgh!). It's as though we're still waiting for it to happen, and still living in the shadow of the cross. I don't think we'll be the only ones with Easter eggs on top of the wardrobe, waiting for our grandchildren to come. Will we have to eat them before their best by date, I wonder?!
Most of us have been worrying not just about our health and safety, but our jobs and security. We have been missing our friends and getting used to keeping our distance, and wondering how long it will be before things get back to normal. And, of course, we have been out each Thursday evening to make a noise in admiration for all those working on the frontline of the NHS and other essential services. Captain Tom Moore has captured the nation's heart by his sponsored walk to raise £1000 to show his appreciation. At the time of writing the total is £27million! He's also on track to score a No 1 hit with Michael Ball. Not bad for someone about to celebrate his 100th birthday! 'It's like I'm living in fairy land,' he said!
All of us are trying to process the extraordinary changes in our world that have come with Covid-19.
Thomas was trying to put the pieces together in one of the great Easter stories. He had arrived late to the party, and was full of the trauma that he was trying to get his head round. In a few short days he had gone from the elation that the revolution was just about to happen, to seeing that hope collapse, and to wondering if the next knock on the door would be the Temple police coming for him too. No wonder he was scornful of the stories the others were trying to tell that Jesus wasn't dead. It wasn't that Thomas was a natural sceptic, I think, but he was deeply bruised by what had happened. He was afraid, and got angry with the people who were trying to help him. He was probably also feeling full of regret and guilt for not having stood up for Jesus at the moment he needed him most.
The lovely part of the Thomas story is that Jesus came to find him. As someone lost, doubtful and traumatised, did he really merit his own resurrection appearance? Jesus obviously thought so. Thomas, with all his doubts and insecurities, mattered. So do we. He too needed to hear the words, 'Peace be with you!' So do we.
The peace that Easter offers, then and now, is not that everything goes back to normal, back to how it used to be. It shows us how to see life and death differently.
Captain Tom Moore's song? You'll Never Walk Alone. In social distancing and lockdown may we know just how true that is. We are in this together, but even more importantly, God walks with us.
---
Thought for April 2020: Living in Unprecedented and Strange Times.
Almost all of the material in April's Catch this was written and put together before the rapid escalation of the coronavirus and how we respond to it. Much of what has been planned for April will not now happen, and you need to check to see what is still going ahead.
As part of our national response the Archbishops of Canterbury and York have called for Church of England churches to put public worship on hold until further notice and for us become a "different sort of church" in the coming months. But they also said that far from having to "shut up shop", the Church of England must face the challenge by becoming a radically different kind of church rooted in prayer and serving others.
Our church buildings in Axbridge and Shipham church buildings will remain open as places of private prayer for anyone in the community, whilst observing appropriate hygiene and social distancing recommendations.
The Archbishops also urge us to be in the forefront of providing practical care and support for the most poor and the most vulnerable during the crisis. "Please do carry on supporting the local foodbank and buy extra provisions for it. Ensure the night shelters wherever possible are kept open. There are many very encouraging schemes happening right across our country in communities to focus on caring for the most vulnerable and do continue to play your part in those."
What can we do to support those who need to self-isolate? As I write this in the run up to Mothering Sunday we are planning to continue to make posies of flowers, but instead of giving them out at the Sunday service taking them to people who are cut off. Please help us as communities to look out for one another.
I went to the supermarket a few days ago and was horrified at the rows of empty shelves. People have been panicking and storing up for a siege. I'm scared about what message we are telling our children when faced with a threat like this. Instead of reason, open-mindedness and altruism, it seems we are telling them to panic, be fearful, suspicious, and self-interested.
The Archbishops went on to say "Being a part of the Church of England is going to look very different in the days ahead. Our life is going to be less characterised by attendance at church on Sunday, and more characterised by the prayer and service we offer each day. We may not be able to pray with people in the ways that we are used to, but we can certainly pray for people. And we can certainly offer practical care and support."
If we have enforced extra time at home perhaps this will allow us time to read a good book. Many are reading Lent books. There are also a whole range of resources to enable people to continue to walk with God. This includes four daily services which are available online from https://www.churchofengland.org/prayer-and-worship/join-us-service-daily-prayer Let us in our prayers remember those who are sick or anxious and all involved in health and emergency services.
While we are in Lent there continues to be a very stimulating and thoughtful reflection for each day. Look up #LiveLent daily reflections, thoughts and prayers which are available in audio and text versions.
In the days and weeks ahead, I understand that the national Church will be significantly expanding the output of a simple daytime prayer and night prayer service, more video content and some live-streaming, new mental health reflections to support people, and webinars to help churches stream sermons, events and make the most of social media. The aim will be to make as much as possible available in simple downloadable and printable formats for those who can't easily access the technology.
"Then by our service, and by our love," they said, "Jesus Christ will be made known, and the hope of the gospel – a hope that can counter fear and isolation - will spread across our land." They added: "This is a defining moment for the Church of England. Are we truly are a church for all, or just the church for ourselves?
We are indeed living in unprecedented and strange times. May we be people with clean hands and open hearts.
---
Thought for March 2020: Saying Yes to Life!
Through March we will be keeping Lent, when we reflect on the journey of Jesus to Jerusalem and the cross. It's a solemn time and has a sombre feel to it. But the Archbishop of Canterbury's Lent book this year is entitled Saying Yes to Life!
Ruth Valerio works for Tearfund and has links across the world. Her book is full of wisdom from scientists, horticulturalists, theologians and many more. It's an exploration of God's creation and our part in it. I started it with some trepidation, but it's a really good and challenging read, or at least as far as I've got! Based on the opening chapter of Genesis, the basic premise is that "the earth is the Lord's and everything in it", and that it's our job to learn our place in that creation. It speaks of mankind's dominion over creation. This doesn't mean ownership, but a deep respect and tenderness.
Patriarch Daniel of Romania describes creation as having God's fingerprints all over it...But conversely Andrew Kyomo from Tanzania writes that "by not protecting forests...we will be destroying the face of God whom we claim to love".
My daughter Rachel and family have just made their way back from a year in New Zealand. They made the most of the return journey, and spent a week in Australia going up the East Coast to the Great Barrier Reef. The journey was made a little hairy because of the wild fires out of control all the way up that coast, and skies dark with smoke despite the searing heat.
Then they had a relaxing week planned in Fiji. Well, you can't go past it and not pop in…Their beach hut and hammocks had to be traded in though after just a couple of days for something more substantial. Cyclone Tino was the second cyclone to hit Fiji in less than a month.
In his introduction to Valerio's book Archbishop Justin quotes one of his fellow bishops from Fiji: "For you Europeans climate change is a problem for the future. For us it is a problem of everyday survival."
So Valerio looks at the Days of Creation (she describes the days with a Capital D as they are not to be regarded as literal days) and the gifts each one brought - light, water, land and trees, the night sky, sea creatures, birds, animals, and finally human beings. The first two, light and water, are fundamental to life.
I was particularly struck by her description of water, something we can easily take for granted. She quotes a Hungarian biochemist: "Water is the hub of life. Water is its master and matrix, its mother and medium...life is water dancing to the tune of solids."
Eric Newby, the travel writer, in "Slowly down the Ganges", talks of the way the river is revered by locals. He identifies 108 names by which it is known locally: 'having Siva's head as an abode' 'destroying the mass of sins'…'the river made of water drops', 'a light around the darkness of ignorance', and my favourite 'carrying away fear'.
How do we see water? If we're honest, for most of the time it's just there, on tap. Maybe we complain of too much rain or too little rain at times, and for those experiencing flooding it can't seem at all like a gift. But we can't do without it.
Valerio tells this delightfully wacky tale. "Some years ago I was with some friends at our house for coffee, and as we were chatting it started to rain. I felt an urge to go and stand outside and as it rained harder and harder puddles developed along the path. I felt another urge to lie down...and so I did feeling somewhat embarrassed ("excuse me, just ignore me, but I feel I need to lie in a puddle for a while") and I lay there getting absolutely saturated, asking God to soak me with his presence and drench me with his love. I was saying yes to his life!"
I'm looking forward to what more the book has to offer, and saying my own yes to life!
---
Thought for February 2020: Cake, Home and Love!
At the start of February we celebrate Candlemas, remembering how Jesus was brought as a child to the Temple and, as the old man Simeon held him in his arms, declared him to be the light of the world. By the end of the month we will have started on the journey of Lent with Ash Wednesday. Sandwiched between the two is Saint Valentine's Day, which reminds us how central love is to our lives.
Approximately 250 years after Jesus, a priest named Valentine lived in Rome during the reign of Emperor Claudius. In order to boost the number of recruits to the army Claudius made weddings illegal. Valentine thought this was ridiculous, so he secretly continued performing marriage ceremonies. He would whisper the words of the ceremony, while listening out for soldiers on the steps outside.
One night, Valentine did hear footsteps at his door. The couple he was marrying escaped, but he was caught. He was thrown in gaol and sentenced to death. Many of the young couples he had married came to visit him there. They threw flowers and notes up to his window. They wanted him to know that they too, believed in love.
He received visits from the daughter of one of the prison guards and the two often sat and talked for hours. On the day Valentine was to die, he left her a note thanking her for her friendship and loyalty. He signed it, "Love from your Valentine." That note started the custom of exchanging love notes on Valentine's Day. It was written on the day he died, 14th February, 269AD. The day has been set aside to honour a man who gave his life for God and for love. Now, every year on this day, people remember Saint Valentine, but most importantly, they think about love.
I know we're all different, but everyone needs to be loved and to give love. That's the way we were made.
I have recently come across a wonderful book about life and love. The Boy, the Mole, the Fox and the Horse by Charlie Mackesy is a delightful book that encourages us to live courageously, with more kindness for yourself and for others.
There are four characters. The boy is full of questions. The fox has been hurt by life. The horse is the biggest and the gentlest thing they have ever encountered, while the mole is greedy for cake. The mole, though, is full of understanding and wisdom too!
"I've learned how to be in the present," said the mole. "How?" asked the boy. "I find a quiet spot and shut my eyes and breathe." "That's good, and then?" "Then I focus." "What do you focus on?" "Cake," said the mole.
On another occasion the mole muses, "Being kind to yourself is one of the greatest kindnesses".
"Sometimes I feel lost," said the boy. "Me too," said the mole, "but we love you, and love brings you home. I think everyone is just trying to get home."
"Sometimes I worry you'll all realise I'm ordinary," said the boy. "Love doesn't need you to be extraordinary," said the mole.
"I've discovered something better than cake." "No you haven't," said the boy. "I have," replied the mole. "What is it?" "A hug. It lasts longer."
Jesus too had a lot to say about love, and his final night with his followers was no exception. During the course of the evening, which can be found in Chapters 13-17 in John's Gospel, Jesus uses the L-word no less than thirty times in eighteen different verses. It doesn't take a genius to realise that love meant a lot to Jesus, that this was his central message he wanted to pass on to his disciples. Jesus reveals how to obtain a love that's worth giving. It all begins when we receive his love for us.
Before signing off this month, I would like on your behalf to express our sincere thanks to Kevin Walke, for whom the February Catch this is his last issue as editor, and to Alison Walke for her work as advertising manager, for the work they have put into Catch this over the years.
May we all find both home and love this month, and perhaps some cake to keep us going!
---
Thought for December 2019: O CHRISTMAS TREE, O CHRISTMAS TREE
It's a funny idea bringing a tree into your house, and decorating it with lights and tinsel and the rest, but most of us will be doing just that in the next few weeks. Some can't wait to get their tree up for 1 December, while some of us will be holding off as long as possible! Trees will soon be up outside in the Square at Shipham and Axbridge, as well as West Street, High Street and St Mary's Street. In Axbridge church we will be having a festival of Christmas trees over the weekend of 7-8 December.
The tree is now so much part of Christmas celebrations, but where does the idea come from and why do we do it?
There's a story of St Boniface, who was sent from Crediton in Devon to preach the Christian faith to the German people in the early the early part of the 8th century. On one trip, around the time of Winter Solstice, he was said to have come across a group of pagans worshipping an old oak tree. Horrified by what he saw, the all-action St Boniface grabbed the nearest axe and hacked down the tree. As he did this he called to the pagans to see the power of his God. According to the myth, a fir tree is said to have grown spontaneously in the oak's place. The next year the pagans in the area that had been converted to Christianity hung decorations from the tree to celebrate what they now called Christmas rather than Winter Solstice. The legend spread and soon Christmas trees became the norm in the newly converted Bavaria, and the evergreen fir was seen to be a reminder of the everlasting love of God.
The first person to bring a Christmas tree into a house, in the way we know it today, may have been the Reformation leader Martin Luther. A story is told that, one night before Christmas, he was walking through the forest and looked up to see the stars shining through the tree branches. It was so beautiful, that he went home and told his children that it reminded him of Jesus, who left the stars of heaven to come to earth at Christmas. Hence the reason that trees became decorated with twinkling lights.
There is another legend, again from Germany, about how one cold Christmas Eve, a forester and his family were in their cottage gathered round the fire to keep warm. Suddenly there was a knock on the door. When the forester opened the door, he found a poor little boy standing on the door step, lost and alone. The forester welcomed him into his house and the family fed and washed him and put him to bed in the youngest son's bed (he had to share with his brother that night!). The next morning, Christmas Morning, the family were woken up by a choir of angels, and the poor little boy had turned into Jesus, the Christ Child. The boy went into the front garden of the cottage and broke a branch off a fir tree and gave it to the family as a present to say thank you for looking after him.
The first Christmas trees came to Britain and became very popular, after Queen Victoria's German husband, Prince Albert, had a Christmas tree set up in Windsor Castle.
I leave with you what to make of these various stories, but many of us will be putting up a tree this month. May it remind us of the everlasting love of God, of the stars of heaven, and of the gift of his mysterious birth in Bethlehem. May we welcome him at the heart of our celebrations. The tree decorating our magazine this month reminds us of some of the wonderful gifts of joy, love, peace, forgiveness and more that God longs to give us.
However and wherever you celebrate, we hope you will find God's peace and that his love may be real to you.
---
Thought for November 2019: FOR ALL THE SAINTS
The front cover of Catch this reminds us that at the beginning of November we celebrate All Saints. The season is somewhat overshadowed by the more popular Halloween, (or as I like to call it the feast of St Pumpkin!), which goes hand-in-hand with All Saints. Both encourage us to live in the light of eternity, not to fear death, and to learn from the example of those who have gone before us in how to live well.
Last month, five new names were added to those officially canonised, or declared saints, by the Roman Catholic Church. Four of them were women, from Switzerland, India, Italy and Brazil, each with their own story to tell, which helps us to live well. One of them, a Brazilian nun called Dulce Lopes Pontes, said she was ready to perform the "small acts of love" that Jesus transforms into great works. Her 'small' acts of love included founding a Workers Union and opening a clinic, a library, a school and even a cinema for the poor. Sister Dulce's Superior said she could use the henhouse attached to the convent, on condition she took care of the chickens. She did, by feeding them to her sick patients. That chicken coop was to become the present-day Santo Antonio Hospital, a 1500-bed health centre specialising in cancer treatment!
Also among the five recently canonised was an Englishman, John Henry Newman. Newman was one of the founders of the Church of England's Oxford Movement in the 19th century. In the 1830s he and his associates, known as the Tractarians because of their series of Tracts for the Times, sought to renew the Church of England by helping it to return to its origins.
Controversially, Newman converted to Catholicism in 1845, and went on to establish a congregation called the Birmingham Oratory. Late in life, he was made a cardinal, although he was never a bishop.
Prayer, holiness and the beauty of worship are at the heart of Christian faith. Newman said, 'Prayer is to the spiritual life what the beating of the pulse and the drawing of the breath are to the life of the body'. The Oxford Movement brought both colour and drama to Anglican worship. (A fine example of their architecture can be found locally in the chapel at St Michael's Cheshire Home, designed by William Butterfield.)
The life of prayer and worship needs to find practical expression too. Many young priests of the Oxford Movement went to serve in slum parishes of cities, bringing beauty and holiness to some of the most deprived areas of the country.
Newman reminds us that we each have our part to play in the big scheme of things. 'God has created me to do Him some definite service. He has committed some work to me which He has not committed to another. I have my mission. I may never know it in this life, but I shall be told it in the next. I am a link in a chain, a bond of connection between persons. He has not created me for naught.'
Newman was also a poet. His poem The Dream of Gerontius was turned into an oratorio by Edward Elgar, and contains the hymn we sing:
Praise to the Holiest in the height,
And in the depth be praise;
In all His words most wonderful;
Most sure in all His ways!
Pope Francis quoted Saint John Henry Newman, who described the holiness of daily life in these words: "The Christian has a deep, silent, hidden peace, which the world sees not... The Christian is cheerful, easy, kind, gentle, courteous, candid, unassuming; has no pretence... with so little that is unusual or striking in his bearing, that he may easily be taken at first sight for an ordinary man." Let us ask God to be like that, said Pope Francis, quoting another of Newman's hymns: "kindly lights" amid the encircling gloom.
---
Thought for October 2019: WE PLOUGH THE FIELDS AND SCATTER…
This is the month of the Harvest Festivals. I write this as we approach Shipham's Harvest, which is followed at the beginning of October by the Festival services in Axbridge and Rowberrow. It's a favourite time of year as we marvel at God's goodness in creation and the provision of our daily needs.
More than ever in my lifetime we have become increasingly aware of where our food comes from, how it is produced, and what effect this has on the farmers and communities who grew it and indeed on the earth itself.
For the last few years we have been receiving a weekly box from Riverford. I know it's a more expensive way of getting our vegetables, but I think it's worth it. Each week we get a selection of tasty goodies that are organically grown. The added bonus is that the produce is not smothered in plastic and it comes in a reusable cardboard box. It also comes with some cooking tips and an interesting description of how the food has got to us and what is happening on the farm.
Here's a taster from a recent Guy's News: A string of depressions and associated weather fronts sweeping in off the Atlantic have given us three inches of much-needed rain. The accompanying winds damaged three polytunnels, and ravaged delicate crops of pumpkin and squash, but we are not complaining; seeing struggling, newly planted crops revive after a good drink, standing up and extending their roots into the warm, moist soil, makes the damage a minor detail. The rain has brought an inevitable flush of weeds. Provided we get the timing right, for the more vigorous crops like cabbage we can cultivate between the rows with various weeding machinery.
Brother Sam of the Franciscan community reminds us that we are part of an interconnected creation. Look at the trees around us, the birds above us, the earth beneath our feet… we share a genetic code, creatures who are made up, like us, of star dust…and we belong in an intricate web of connectedness, a network of relationships flowing from an infinitely generous, abundant and compassionate God - who is relationship itself.
From Genesis to Revelation this is how the Scriptures see the world; and this is the vision which Francis of Assisi rejoiced in. He called every creature, no matter how small, brother or sister because he saw that they came from the same source.
Because of our interconnectedness, what happens in other parts of the world matters to us all. We cannot now ignore as of no consequence the rapid deforestation in Brazil, the record summer temperatures in Europe, or the massive melting of ice in Greenland.
Brother Sam writes: Underlying the ecological crises of our time… is one fundamental crisis - the loss of a sense or an awareness of relatedness, a forgetfulness that we are intimately and intricately connected to each other and to the world around us. We have forgotten that everything in this world 'belongs', has a place, is related. This is not romantic fantasy, it is scientific fact. In a culture in which our main focus is on consumption and accumulation we have come to see this planet as 'a giant warehouse of stuff, there for our convenience, to be plundered, possessed, exploited and discarded at will, rather than as a community of creatures sharing a common home in relation to the mystery of God.
May we seek to live simply and gratefully, rooted in our awareness of the world around us, our place within it, and the God who made and loves us. Happy Harvest!
---
Thought for September 2019: Access for all
The good news at Axbridge is that work starts this month on the church access improvement project.
We have delayed the start of work and waited for the wedding season to finish. In mid-September, soon after the last of this year's services, the stonemason will arrive and work on-site will begin, with completion expected in early November.
The work will inevitably involve a certain amount of disruption. Most notably the footpath in front of the church steps will be closed, and people coming from the Chestnut Avenue direction will need to go down the slope of Church Path or across the churchyard.
The church will be open as usual for services and for visitors during the day for the whole period. The West Door will be the main entrance to church, and key holders will need to open up from the small entrance in the Lady Chapel at the East end. (Compasses are available if needed!)
We are very grateful for all who have generously supported this project. If you haven't contributed and would like to, we would be delighted to hear from you.
We have planned an official Dedication of the Access at our 10 o'clock service on Sunday 1 December. We look forward to welcoming Bishop Ruth Worsley, Bishop of Taunton, for her first visit to the church, to do the honours. Please put the date in your diary.
It has taken five years for us to get this far. Any work involving our Grade 1 listed building, one of the treasures of our local community, has to be done with the utmost care. We have been working with our architect, the Diocesan Advisory Committee, Sedgemoor District Council Planning and Conservation Officers on getting it as right as we can.
The iconic view of the church from the Square will be unspoiled, while those needing access without steps will be able to enter with ease through the same door as everybody else.
The whole project is about making the church more open and available. We want as many people as possible to enjoy and make the most of this special place.
My attention has been caught recently by two cathedrals, which have imaginatively been trying to do something similar during the summer months.
Norwich Cathedral has installed a 55ft-tall helter skelter in its nave in order to give visitors a better view of its ornate roof. Reverend Canon Andy Bryant, Canon of Mission and Pastoral Care, said the idea came to him when he was visiting the Sistine Chapel in Rome.
"I had the slightly risky thought of 'I know this is amazing, but actually the ceiling at Norwich Cathedral is every bit as wonderful'," he said. "We have one of the greatest collections of medieval roof bosses anywhere in northern Europe. The trouble is they are so high up that most people never get a chance to really appreciate them. And so was born the idea: could we get people up higher to these roof bosses and so appreciate that they are exquisite art as they are the most beautiful pieces of stone carving but also the story that's captured within them which is the story of the Bible?"
The project is called Seeing It Differently. "We all are always looking to broaden the appeal of our cathedrals," said Rev Bryant, "because some people can feel that cathedrals are slightly exclusive, they're for a particular type of person."
Meanwhile the nave of Rochester Cathedral in Kent has been home to a nine-hole crazy golf course, each with a model of a different type of bridge. The cathedral says it hopes visitors will learn about faith, and building both emotional and physical bridges as they play.
Rev Rachel Phillips, Canon for Mission and Growth at Rochester Cathedral, said: "We hope that, while playing adventure golf, visitors will reflect on the bridges that need to be built in their own lives and in our world today."
A visitor to the cathedral said: "It's really nice for children to come here, be able to see the history of the cathedral, and have fun." One boy who played on the course said: "I think it's quite a good place for non-religious people to come in to experience what it's all about."
We don't have plans for a helter skelter or golf course at Axbridge, but we do hope that more people will be able to experience what our special church is all about.
---
Thought for August 2019: Goodbye!
One way or another we have more than our share of farewells last month as well as this. As I write, I have just taken the Leavers' Services for Axbridge and Shipham First Schools as the Year 4 children move on to Middle School and the next stage of their education. There were some tears and lots to celebrate.
Then on 24 July we have the funeral service of Dennis Bratt in church, as we say our goodbyes to this larger than life character. Dennis has contributed much to the life of Axbridge since moving here in 1973. On 18 August at our United Benefice service at 10am at Axbridge, we will be saying our goodbyes to John and Janet Angle (see also page 7) who are moving house and again have contributed much, particularly to the churches of our Benefice, in their time with us.
In a different context during July we have been remembering the 50th anniversary of that momentous journey of Apollo 11 to the moon. You can read the Bishop's reflections on that on page 5.
It set me thinking about how we say goodbye in various languages and what we are wishing people when we do. We might translate them all as 'goodbye', but each has a different slant.
There are times when saying goodbye can be difficult, but if you say 'Hwyl fawr' in Welsh, you are wishing them 'big fun!' We certainly hope that our children moving on, whether it's to Middle school or beyond, will have much fun. We also hope that the August holidays will bring lots of enjoyment. The Welsh supporters going off to the rugby World Cup in September will certainly be hoping for 'big fun'!
If you are in Hawaii the greeting for both 'hello' and 'goodbye' is 'Aloha!' This means love and peace. What a lovely greeting. Similarly in Hebrew 'Shalom' is used when meeting and parting. It means so much more than just peace, and includes harmony, wholeness, welfare, and tranquillity. All in a single word!
A number of languages have the idea of looking forward to seeing the person again: 'Au revoir' in French and 'Auf Wiedersehen' in German for example. If you are on the phone to a German, it's '… until we hear each other again': 'Auf Wiederhören, bis zum nächsten…'
A younger generation in this country often now say "See you later" even when there is no chance that we will see each other in the next week, or month, or even year.
'Ciao' in Italian sounds very casual and we use it in English with an almost throw away feel to it. In reality it comes from a contraction of a Venetian saying meaning 'I am your slave', much like you might have written in an old fashioned letter, "Your Obedient Servant." I suppose it's a way of saying that we are there for that person.
'Adios' in Spanish again sounds quite casual to us, but it actually means 'You're going to God'. A funeral service is indeed a moment when we commend a person to God. To my mind commending a person to God does not mean death, but life! When I took Communion to Eva Morris in Stafford she would not let me say 'Goodbye' as she said it sounded to final. Instead we were told to say, 'Ta ta for now!' She was 109 by the time we left the parish, and she lived on, eventually getting her name in the Guinness Book of Records!
If that is what some other languages and cultures use to bid farewell, what does our own 'Goodbye' mean? Like the Italian version it is a contraction, a shortened form of the phrase 'God be with you.' Christians believe that God is always with us. It is good to remember that when people leave us, they are not left on their own. Whether it is just over the holidays, or as some move to a new school or a new home, we all wish them the very best and, as we say goodbye, we pray that God will be with them wherever they go.
As the Bishop reminds us in his piece, God is always with us, wherever we are, whether it's on the moon or no further than the local Co-op!
---
Thought for July 2019: Keep Calm 'cause it's nearly the end of the school year
It's only a few weeks to go now! The school holidays are just around the corner.
In our magazine this month you will find a number of interesting articles on holidays, reflecting on how some people cope, struggle, or survive them, and how some aim to make the most of these weeks.
But before the holidays start, there are those last GCSE and A-level exams to sit, or reports to write. In our First Schools we are preparing for our special Leavers' Services in church on Friday 19 July at Axbridge (at 9:15am) and at Shipham (at 2pm). You are welcome to join us at these services.
At both our First Schools we will be celebrating the enormous strides which the children have made in their first five years of school, and wishing them well as they move on to the next stage of their education.
At the end of this term at Shipham we won't just be saying goodbye to the Year 4 children. Mr Mike Jory will be leaving us as Head Teacher at Shipham and Draycott & Rodney Stoke First Schools to take up the role at another school in Glastonbury. He has been Head across these two church schools within the Mendip Edge Federation for five years. We will be sorry to see him leave, are grateful for all the energy and enthusiasm he has brought to the role, and wish him every success for the future.
With education in mind, on Sunday 7 July in our 10 o'clock service at Axbridge in our This Time Tomorrow slot we'll be hearing from Tony Wilson. In January Tony took up the post of Director of Education for Oxford Diocese with a responsibility for 283 Church of England schools across Oxfordshire, Berkshire and Buckinghamshire. It will be interesting to hear his reflections on the joys and challenges in education today, and particularly what distinctive qualities a church school can offer to young people and families in today's world. I'm sure it will be very interesting. Try and come if you can.
We trust that all our schools help to foster a love of learning, which children and young people will carry with them through the whole of their lives. Whether their next step is a new school, university or work place, this ability will stand them in good stead and help them to make the most of opportunities that come their way. As the Duke of Wellington said, 'Wise people learn when they can; fools learn when they must'.
Recently Heather and I have enjoyed some trips to the theatre in Bristol. We were glad to get to Matilda the Musical. This marvellous adaptation of the Roald Dahl children's book tells the story of Matilda, who develops an insatiable love of reading. 'The books transported her into new worlds and introduced her to amazing people who lived exciting lives.' Make sure you put at least one trip to the local library on the to-do list for this summer holiday - and it won't cost you a penny!
We also managed to get to the Old Vic Theatre School production of The Life and Adventures of Nicholas Nickleby. This was the production of the final year students before being launched into their careers, and they certainly did Dickens' tale proud. They brought to life the extraordinary characters of Wackford Squeers and his dreadful academy, Ralph Nickleby, a man for whom money is everything, and the joyous travelling theatre company run by Vincent Crummles. Through his adventures Nicholas finds his way to live with dignity and wisdom.
Of course, you could go straight to the Bible if you're in search of wisdom! The Book of Proverbs sums it up when it says:
Trust in the Lord with all your heart
and lean not on your own understanding;
in all your ways submit to him,
and he will make your paths straight.
Best wishes for the last few weeks of term and the summer holidays when they come!
---
Thought for June 2019: #SOMERSETROCKS
From Ascension Day to Pentecost, 30 May - 9 June, we are invited to join in praying the line from the Lord's Prayer…Thy Kingdom Come.
Through the centuries, Christians have gathered during this period to pray for the coming of the Holy Spirit. Thy Kingdom Come picks up this tradition with an international call to prayer. Now in its third year, this initiative has grown quickly, and is shared across many countries. Archbishop Justin Welby writes, "I cannot remember in my life anything that I've been involved in where I have sensed so clearly the work of the Spirit."
Our Diocese of Bath & Wells is encouraging us to use stones as triggers for prayer as a church during a service, or at home, hence the hashtag Somerset Rocks. Throughout scripture, rocks are commonly referred to as a symbol of God's reliability. We read, for example, in the Psalms, "Lord, be my rock of refuge, a strong fortress…". It's a prayer that God will be there no matter how messy or uncertain things may be around us.
There are 50 ideas with everything from making rock cakes to building a cairn! A cairn is a human-made pile of stones that is used as a landmark. The Celtic church also developed a Caim or circle prayer, using a circle of small stones that people can sit or stand in as they pray. One such prayer in this tradition, by David Adam, goes:
Circle me O God
Keep hope within
Despair without.
Circle me O God
Keep peace within
Keep turmoil out.
Circle me O God
Keep calm within
Keep storms without.
Circle me O God
Keep strength within
Keep weakness out.
There are many different ways we can get involved with Thy Kingdom Come locally. Each morning there will be prayers in one of the churches of the Cheddar valley, beginning at Axbridge Church on 30 May, Ascension Day at 9am. On Saturday 1 June there will be an ecumenical pilgrim walk to Wells, starting at Cheddar Baptist Church at 8:45am. The walk will finish with prayers at the wells in the Bishop's Palace. The following Saturday, 8 June, we have a day of prayer at St Leonard's, Shipham, from 8:30am - 8:30pm. The season will culminate in a special service at Axbridge Church on Pentecost Sunday at 6:30pm.
But when we pray, I wonder what it is we are looking for? Do we expect it to be a way of persuading God to give us what we want? Or is prayer instead something we do as we engage with God, and pray for what he wants? 'Thy Kingdom Come', is followed by the words 'Thy will be done'. We pray for the coming of God's Kingdom in our lives, the lives of those around us, the life of our churches, communities and beyond. We look for God's agenda, not ours.
Prayer is the way we have been given to see God's power at work in every situation, to help us cope, to overcome evil, and to witness change.
Thy Kingdom Come, is an ideal opportunity for all of us to deepen our friendship with Jesus, bring others to know Jesus or know him better and to come to know that every aspect of our life is the stuff of prayer. The national website is: www.thykingdomcom/global.
Don't forget that in June we also have the Axbridge Church Fete. This takes place on Saturday 15 June in the garden of The Court and in the school field on the Furlong. (If it's wet there is a plan B in the Town Hall and Church!) We are very grateful to the gang of people who have worked hard to make this popular social occasion take place this year, after a year off.
---
Thought for May 2019: On the Spot
In Holy Week the people of Paris were stunned to see their cathedral of Notre Dame engulfed in flames. This ancient church has stood for centuries as a symbol of the heart and faith of the nation. The next day revealed the extent of the damage, but before the fire was out people expressed their resolve to rebuild and restore. Generous offers of money came pouring in.
The charred remains reminded me of our visit to Christchurch in New Zealand a few weeks ago. There in February 2011 an earthquake, the second in a few months, struck the centre of the city. It was moving to visit the Quake City exhibition and hear some of the first-hand stories of what it was like on that day. 185 people were killed in the disaster, and thousands of buildings were damaged or destroyed, including the Victorian Gothic Revival-style cathedral. The once majestic spire came down and lay in a heap of rubble.
Eight years on, and what seemed like the whole of the centre of the city is being rebuilt. Work on the cathedral, though, has taken a very long time to get going and there is a gaping hole at one end of the building. There have been lots of debates about whether to reconstruct what had been there or to build to a new design, and how it would be funded.
In the meantime the congregation has moved up the road to a new and temporary home, known as the Transitional Cathedral. As their website tells us 'Cathedrals usually stand as reminders of eternity and resurrection, as enduring monuments to human skill and inventiveness, and magnificent pointers to the presence of God among us. Their websites will tell you how they are the oldest, the largest, the tallest or the most significant of their kind. Christchurch Cathedral is slightly different. It is the world's only cathedral made substantially of cardboard!' And very beautiful and simple it is too. The cardboard cathedral is a powerful and exciting symbol of moving on.
There is so much of the Easter story to be found in the Christchurch experience. Twice in Matthew's account we read of earthquakes.
At the moment when Jesus died, we read how 'the curtain of the temple was torn in two from top to bottom. The earth shook, the rocks split and the tombs broke open… When the centurion and those with him who were guarding Jesus saw the earthquake and all that had happened, they were terrified, and exclaimed, "Surely he was the Son of God!"'
Then, at the resurrection, 'there was a violent earthquake, for an angel of the Lord came down from heaven and, going to the tomb, rolled back the stone and sat on it.'
Whether they were physical earthquakes or that's just how it felt to the disciples, I leave with you. What was clear was that something earth shattering and changing had taken place, and the world would never be the same again. On the site of the damaged cathedral are the words: 'Let these stones speak of a love that endures forever.'
A few days after our visit to the centre of Christchurch, the calm was again destroyed, but in a different way. The Dean of Christchurch, Very Rev'd Lawrence Kimberley, writes, 'In the light of Mosque shootings in Christchurch, the contemplation of the last week of Jesus' life is more relevant than ever. We will follow Jesus into the garden of agonised prayer and see him abandoned. We will see the ways that prejudice, bullying, and racism lead to the death of an innocent person. We will come to the place of crucifixion and see our own complicity with the forces of evil that helped to nail Jesus to the cross. The story does not end there, however. We will also celebrate hope breaking through in the resurrection of Jesus, and how love, which flows from the heart of God, is the most powerful agent of healing, restoration, and change, that has ever existed. Holy Week is an unfolding of the immense love of God for the world; a love that holds on to every part of us and transforms whatever is broken into goodness beyond our imagining.'
May the joy of resurrection be yours!
---
Thought for April 2019: Ken Browne writes: The World in which we live
I write this a few days after the attack on the mosques in New Zealand There is horror and revulsion around the world at this evil act. There is also significant fear that something like that could happen again. This time is was from a right-wing extremist, but we still recall similar attacks by Islamic groups.
The events of Bloody Sunday are once more being raked over and an ex-soldier faces a murder charge. Whatever your feelings on this and whether the man should be prosecuted for events of nearly 50 years ago, it reminds us of of a tragic era in which atrocities on both sides were committed.
There is still total confusion on Brexit (and by the time you read this you may know whether we are in, out or still dangling somewhere in the middle). One of the saddest aspects of this is the bitterness with which both sides attack each other - refusing to accept that those of different views may be sincere in their belief that they act for the best interests of the country.
Usually we can rely on "Red Nose Day" for some feel-good factor - showing that most people do care about others, but this year, donations are down - perhaps owing to an Internet spat about "white celebrity saviours" going to foreign countries in a paternalistic manner.
And please don't get me started on social media with the viciousness and bullying which seems to often to take place there, dehumanising people.
When we look at all the bad things going on around us we may well ask "So where is God in all this?" or even "does he even exist?" I have had this put to me many times and there is of course no simple answer. One that begins to make sense (at least to me) is that God has given us the freedom to choose how to act and if we choose to act badly that is down to us.
But as we work our way through Lent we are confronted eventually by Good Friday, and that provides us with the other half of the answer. "Where is God?" right in the midst of all this, hanging on the cross, absorbing all the evil, cruelty and viciousness which this world has to offer, and transforming it into love and forgiveness, symbolised by the Resurrection.
We are living in occupied territory, taken over by the power of evil, but the crucifixion and resurrection mark the start of God reclaiming his kingdom. We may not see good actions on the scale of evil ones, but they happen. Every time you seek to show the love of God in some tangible way, it marks another step in the establishment of God's Kingdom.
So in spite of all temptations to despair, remember that God is at work in this world and one day (perhaps not this side of the grave) we shall see his glory filling his creation.
A very happy Easter to you all.
with Love and Prayers
Ken
---
Thought for March 2019: Do you want to know a Secret?
One Sunday morning recently I found myself thinking that I'm sure a lot more people would love what the early Sunday morning Communion has to offer if they only knew and were prepared to give it a try.
We have an 8 o'clock service in each of the three churches once a month. Each one is a little different, but essentially they are gems that it would be sad to lose through lack of use.
I know that for some people the idea of getting up and out in time on a Sunday morning, especially when it is still dark, is a big no, no! If you have an early start every other day of the week, then a bit of a lie in once a week is great. For others getting up takes a lot longer now than it used to. I understand fully, and the last thing I want to do is to make anyone feel guilty. I just want to offer something that is profoundly good.
Peter Smith, who comes to the old Prayer Book service at Axbridge, writes:
'Do you want to know a Secret? No, not just the words to Billy J Kramer's 1960's hit, but once a month there is a service that has some of the greatest lines in the English language. You also get to sit in the best seats in the house, nothing in the way, (like one of those great big pillars), and you can even see the altar, even if you arrive a bit late.
It was about 35 years ago when I was confirmed in St Andrews in Cheddar and Rev Victor Daley suggested that as I had a busy life bringing up a family and running my business, that the 8am service on a Sunday would enable me to fit attending Church in as well as all the other things I had to do on my day off.
I have to admit that the first few services left me a bit bewildered. However, after a while I found the rhythm of the service which then enabled me to worship God within a familiar framework of words, sentences and paragraphs.
So, on the second Sunday, you will find me and a few others getting up early to attend the traditional Prayer Book version of the Holy Communion.
If you have never been, try it once in a while, and see what I mean, and then walk over to the Co-op, pick up the Sunday papers, slide off home to enjoy a leisurely breakfast, and still have the rest of the morning to wash the car.
It is meet and right so to do.'
As for me, 8 o'clock Communion starts a Sunday well. There is a simplicity and a depth of stillness that I find very attractive. It's what some people might call mindfulness. I know I can sit still and quietly at home, but there is something very special about these ancient stones, where prayer has been offered for centuries, and to join others as we offer our prayers. It's where in part I rediscover a sense of the sacred, as I allow the love of God to wash around me.
I've always loved the Glory Be, which concludes various prayers and canticles. The words "...as it was in the beginning, is now, and ever shall be, world without end" remind us of the big story. When faced with birth and death, and the dash between the two, people realize that we need to have a longer story. This is what Christianity offers, from the beginning to the end.
Contemporary society has lost its taste for seeking truth, Timothy Radcliffe argues, which is why he has devoted two books to inviting an increasingly secular world back to church, including ones called Why go to Church? and What is the point of being a Christian? "We are devouring our small planetary home because we are tempted to see everything in terms of its utility for us," he says. "Consumption is the dominant metaphor of our time." As a remedy he argues that we must learn to know and love what is around us "not for what it gives us but just because it is. You can delight in a flower without having to pluck and own it."
This idea of delighting in a beautiful flower is what in part 8 o'clock is for me.
Could this be something for you…?
with Love and Prayers
Tim
---
Thought for February 2019: Follow the Star - Part 2!
I have come to SatNav fairly late in life. When I changed my car a few months ago, it came with SatNav as a built in feature. Up to this point I have had a fairly healthy disrespect for what I regarded as distractions that were stuck on the dashboard or windscreen. My experience had not been good.
Once I spent a journey in the streets of Bristol arguing with the a SatNav device in my daughter's car. It was forever recalculating, and getting frustrated with the driver, who was apparently taking no notice of what it was trying to tell her. That was because I knew best which way to get to where we were going, from the days when I walked around that part of the city. I kept over-riding the advice. "No, you go up this street and then turn left," I insisted! It didn't give up on us….
On another occasion I met a young lady in a car outside Axbridge Church, having been brought there by her SatNav from High Street, up Horns Lane at the back of The Roxy. She was trying to get to a beauty salon in a nearby village and this was where her device had led her. She ended up stuck and in a bit of a state, with just the last flight of steps into the South Door of the church to conquer. I assured her that we didn't run a beauty salon! Although technically designated as 'public right of way', this is not a lane to drive even a small car round. Somehow I managed to bale her out by manoeuvring the car down the slope and safely back into St Mary's Street.
That was enough for me. I'd stick to good old maps, and avoid being led into a field or up a blind alley.
I have to say that my attitude changed the very first time I switched on my new SatNav. I was going to a place in deepest, darkest Somerset. Not only did it tell me which way it recommended and how long it would take to get there, it told me in no uncertain terms that with traffic conditions as they were, I should avoid the more direct motorway. I ignored it for a while, but in the end followed its instructions, and got there long before others, who were caught in traffic jams. All this is done with the help of a bank of satellites up in space beaming information about my position as well as what is happening on the roads ahead.
It has got me thinking about what we will use to guide us through the coming year. How do we cope with the twists and turns that as yet we have no idea are awaiting us? This holds good for us on our individual journeys and also as a nation as we wrestle with what our future relationship with Europe will be. (See page 23 for some ideas about how we might pray for our parliament and nation.)
We're just coming to the end of the Epiphany season, which begins with the wise men following a star. Somehow they ended up in the equivalent of a blind alley. Maybe the nearer they got to their goal, they started to follow their own sense of direction rather than the light of the star. Their assumption was that a new king would be born in a palace in the heart of the capital city. They soon found that not only was the baby king they were looking for not in the city, but they had to re-adjust their understanding of what this new king was like. They were, after all, wise men and open to the truth that God may not be quite as they expected.
Recalculating is part of the journey for most of us. The reassuring thing is that getting things wrong is pretty much par for the course. It's normal. More importantly, it won't stop God from leading us, quietly prompting, as long as we are ready to acknowledge our mistakes and be prepared to adjust our course.
May God bless us on the journey ahead.
---
Thought for December 2018: Deeply Known and Truly Loved
The Archbishops of Canterbury and York, Justin Welby & John Sentamu, invite us this Advent and Christmas to join with them in following the star that led the wise men to Jesus.
"For many of us," they write, "Christmas brings up so many emotions, memories and expectations. We have one nativity story, but it can seem like we all have very different Christmases. For you it might be a time of joy and togetherness. Or perhaps it's all about planning and to-do lists.
Many others can find it a sad and lonely time - nagged by the feeling that your Christmas is not like those 'perfect' ones we see in the media. But just like the unexpected assortment of people who were invited to meet the baby Jesus, #FollowTheStar doesn't ask you to be perfect.
It says: come just as you are, to take the life-changing Christmas journey. Wherever you are this Christmas, you are invited to follow the star and to be with Jesus. You are welcome. You are deeply known and truly loved.
Mary and Joseph and all those caught up in the Christmas story were surprised by the astonishing way that God chose to live among us.
Each Christmas we are reminded of God's longing to surprise us with his gift of joy, love and new life. It's the greatest present we can receive and share with others!"
For each day there will be a picture, a short Bible passage, a simple prayer and an action to reflect on. These are available in a booklet, email or text. To find out more about #FollowTheStar look up the website: www.churchofengland.org/followthestar
How do you plan to make this Advent special? A few new ideas are being tried locally, which may help spark your imagination.
The idea of journey is picked up in a custom called Posada that comes from Mexico, which we will be using in Axbridge. Figures of Mary and Joseph are cared for overnight in different homes, travelling each day on to the next home, as we remember the journey they made to Bethlehem. It is a lovely opportunity to experience the meaning of Advent, as we make room for Jesus in our home. The journey comes to an end as Mary and Joseph arrive at the Christingle service on Christmas Eve.
In similar vein, the people of Wedmore have planned a 'Living Advent'. Just like in the Advent Calendar many of us have at home, a different window will be unveiled each day between 1 December and Christmas Eve. The difference is that these will be real windows in real homes across the village.
Householders will be lighting up a new window to all who gather at 6:30pm every day; and each window will then remain illuminated until Twelfth Night on 5 January. The aim is just to have fun and create a nice way of bringing the community together. A travelling crib will move between the houses to symbolise the journey of Mary and Joseph to Bethlehem.
Each of our churches will be decorated for the festival. From 16 to 22 December, Axbridge Church will have a Festival of Christmas trees. Some local groups, shops and businesses will be contributing a tree and giving it their own particular twist. The festival will be open between 9am and 5pm each day, and later on 22 Saturday with Father Christmas in The Square. There won't be a charge to go in and look, but donations are welcome for the Cheddar Foodbank.
There will, of course, be the regular tried and tested traditions in our three communities - the ever popular Christingles (this year The Children's Society are celebrating 50 years of Christingles, although the custom from Moravia goes a lot further back than that), and the candlelit carols on Christmas Eve at Rowberrow, and the rest.
We pray this month will offer a path for your journey closer to Jesus, and we wish you every blessing this Christmas.
---
Thought for November 2018: There but not There
One hundred years ago the guns of the Great War fell silent for the last time. It was the end of a conflict that deeply scarred our world.
How will you remember?
Four years ago we marked the war's beginning. Few will forget the effect of the installation in the moat of the Tower of London. Blood Swept Lands and Seas of Red consisted of a sweeping tide of 888,246 ceramic red poppies. Each poppy represented one of the British or Commonwealth servicemen who died in the conflict that was to follow. From all sides 17 million died in World War One, 7 million of whom were civilians.
These years of remembrance have helped new generations understand more of what their grandparents and great-grandparents went through. The hardships they faced, the courage they showed, and the faith they shared, have become more real.
Catch this this month has details of how we are marking this important anniversary. As well as the annual services of Remembrance at each of our war memorials and churches, Shipham will be having a shared lunch in the Village Hall. There will be a display with the stories of over 60 World War One servicemen from the Shipham, Rowberrow and Star parish. Rowberrow will have a display of personal memorabilia.
In Axbridge Church on the eve of the Centenary, Saturday 10 November, there will be an evening of readings, poems, music and images to reflect on what the world was like back in November 1918. It is called Prelude to Peace and will, I hope, help us to learn the lessons of history and also to pray for peace. This will begin at 7pm for 7:30pm
You may have spotted notices appearing in Shipham and Axbridge churchyards recently, to remind us that in each there is a Commonwealth war grave. The one in Shipham is particularly poignant. It is of Henry John Venn, a private in the Devonshire Regiment, a lad of 18, who died on 10 November 1918. He didn't live to see the Armistice that was signed the next day.
If four years ago ceramic poppies captured our imagination, this year silhouettes have appeared in all sorts of places. Some are of soldiers. Others are simply the outlines of figures and where they may have sat in church. There but not There calls us to remember the fallen of our community, the spaces they left behind, and reflect on what their stories teach us today.
Carol Ann Duffy wrote the poem Last Post to mark the deaths of Henry Allingham and Harry Patch, the two longest surviving soldiers from the First World War. It speaks of how we rewind history.
In all my dreams, before my helpless sight,
He plunges at me, guttering, choking, drowning.
If poetry could tell it backwards, true, begin
that moment shrapnel scythed you to the stinking mud ...
but you get up, amazed, watch bled bad blood
run upwards from the slime into its wounds;
see lines and lines of British boys rewind
back to their trenches, kiss the photographs from home -
mothers, sweethearts, sisters, younger brothers
not entering the story now
to die and die and die.
Dulce - No - Decorum - No - Pro patria mori.
You walk away.
You walk away; drop your gun (fixed bayonet)
like all your mates do too - Harry, Tommy, Wilfred, Edward, Bert -
and light a cigarette.
There's coffee in the square,
warm French bread
and all those thousands dead
are shaking dried mud from their hair
and queuing up for home. Freshly alive,
a lad plays Tipperary to the crowd, released
from History; the glistening, healthy horses fit for heroes, kings.
You lean against a wall,
your several million lives still possible
and crammed with love, work, children, talent,
English beer, good food.
You see the poet tuck away his pocket-book
and smile.
If poetry could truly tell it backwards,
then it would.
---
Thought for October 2018: With a Song in My Heart
Music is good for you and we have a number of opportunities to prove that in this month's magazine!
On page 23 you will find details of a concert in Axbridge Church when we host the Voskreseniye Choir from St Petersburg. They are a group of conservatoire trained professional singers who will entertain us with a mixture of sacred music in the Eastern Orthodox tradition and folk songs from Russia. When they came last year they proved a huge success and wowed us with their beautiful soaring music. Try not to miss this one if you can!
In the half-term holiday at the very beginning of November we have a group of young musicians from a school in South London, who will bring a completely different style of music, but which I'm sure will be full of energy and enjoyment. They are giving a series of concerts in the area and originally were exploring the possibility of performing for the residents of St Michael's Cheshire Home. With 90 performers there isn't an appropriate space there, so we have agreed for it to be in Axbridge Church. You are welcome to come and support these young people and there will be a retiring collection for St Michael's. More about this on page 15.
There is also the opportunity for us to make music on 14 October when the evening service at Axbridge will be a Songs of Praise. You can suggest a favourite hymn and then come and sing it (not on your own!). There will hopefully also be musical items in the service, all to lift the spirits.
The thing is that music does just that: lift the spirits. All sorts of studies have shown that singing is a natural anti-depressant. It releases endorphins that make us feel uplifted and happy. Singing can take your mind off the day's troubles. Just ask any of those in the Axbridge Singers that meet on a Thursday or the Benefice Choir on a Friday.
One of the joys of my job is hearing the children of both Shipham and Axbridge First Schools singing in their collective worship. It can often make the hairs on the back of my neck stand up.
Singing has physical benefits too and even boosts the immune system (even more than just listening to other people making music). It's good for posture, exercise and stamina. It is known to improve outcomes for people with Alzheimer's. At the other end of the scale many a teenager has tried to persuade their parents that listening to music helps their revision. Well, research indicates that they are right!
It's also beneficial for babies. In an interesting study recently, a number of premature babies in intensive care in hospital neonatal units were exposed to different kinds of music - either lullabies sung by their parents or instruments played by music therapists while they were recovering from treatment. Though all forms of music improved the babies' functioning, the parents' singing had the greatest impact. It also lowered the stress of the parents at the same time.
Lorenz Hart and Richard Rodgers wrote a song in the 1930's that has been covered many times called, With a Song in My Heart, it has the words:
With a song in my heart I behold your adorable face
Just a song in my heart but it soon is a hymn to your grace
When the music swells I'm touching your hand
It tells me you are standing near and
At the sound of your voice heaven opens its portals to me...
It is, of course, a love song, but it is the same sentiment you find over and over in the Psalms in the Old Testament where we are encouraged to sing a new song to God.
Whether your preference is for Dizzee Rascal or Johann Sebastian Bach, make sure there's a song in your heart this month!
---
Thought for September 2018: Come, ye thankful people, come!
What a cracking summer we have had! It's a very long time since we have had week after week of uninterrupted sunshine. While many of us have been smiling, the gardens and fields were crying out for water as they got browner and the ground more cracked.
Farmers started harvesting two to three weeks early this season. One farmer said "It's the earliest I've cut a crop in many years". Some crops have fared better than others. Good levels of sunlight may have helped crops despite high temperatures and low to non-existent rainfall, but some seed has shriveled in the heat.
We are reminded of the delicate and sometimes precarious balance of nature. Thankfully it seems that a more normal balance has been established in our parts, at least for the time being.
As we give thanks, we remember in our prayers the people of Kerala in southern India, where monsoon rains of 120 inches have fallen since the beginning of June. This has caused massive flooding, with hundreds killed recently, and hundreds of thousands made homeless.
September sees the first of our Harvest Festivals, with the Civic Harvest at the Methodist Church in Axbridge on 9 September and Shipham's service and supper on 16 September. Axbridge and Rowberrow churches have theirs on 7 October, as we are encouraged to give thanks for things we often take for granted.
In local villages of East Brent, Mark, Allerton and Wedmore, traditional Harvest Homes have been celebrated in August, with marquees, and quantities of meat, cider and entertainment. East Brent claims the oldest surviving Harvest Home going back to 1857.
The Weston Mercury report of that day records, "The first annual festival took place at East Brent, commencing with divine service. The villagers and their friends, all dressed in their best, went to church, where they devoutly prayed, and listened to a sermon preached by Archdeacon Denison. Afterwards the rustic population sat down to a substantial dinner spread in a large tent, erected in the Vicarage meadows. Festooned and decorated at every point, the interior of the canvass erection looked exceedingly pretty. 'Temperance in all things', 'Old England for ever,' 'Long live the Vicar,' 'God Save the Queen,' 'Agriculture,' and similar mottoes met the eye at every point."
There was one year when a motto had everyone guessing, and scratching their heads. The inscription was in Greek, and apparently the proud local villagers, as if they had been Greek scholars all their lives, would explain that it meant "There's nothing like water". It was intended as a complement to the Vicar who succeeded in getting the village an unfailing supply of pure water. There's nothing like water! We might well echo that sentiment this summer.
It's not that Harvest festivals are a Victorian innovation. In one of the Harvest readings from Deuteronomy, from the early days of the Old Testament, a description is given of how the people of Israel should celebrate their harvest thanksgiving. These are instructions for a farming community, when the vast majority of the people lived off the land. So the command was not that you gave money as we might nowadays, but that you gave a share of the produce of your farm to God - the first part of the crop to be placed on a basket and offered to God.
The ancient Israelite harvest festival didn't just celebrate God's gift of the harvest. It was really to celebrate that God had freed Israel from slavery in Egypt, and had brought the people to this place flowing with milk and honey. So these instructions about harvest offerings end with the words: 'Be grateful for the good things the Lord your God has given you…'
Dean Alford, a Somerset man, who sometimes stayed in Weston-super-Mare, is said to have written the famous hymn, "Come ye thankful people, Come," especially for the East Brent Harvest Home. Hopefully we can do the same this month.
---
Thought for August 2018: Keeping The Faith
During the last few weeks a string of text messages flew backwards and forwards between my son-in-law and me. His messages contained some unusual language for someone in their thirties: Still believe…Keep the faith…
He, along with much of the rest of the country, was getting more and more excited at England's progress in the World Cup. All too often in the past hopes have been raised, only to be dashed through under-performance. Chris is ever the optimist, though, and he needs to be as a long standing season ticket holder at Swindon Town!
As the young England team negotiated their way through the group games to the knock out stages, winning a penalty shoot out in the process, and then comfortably beating Sweden, the dream was kindled. Then came the semi-final against Croatia, the first time 'we' had got that far in 28 years. A wonderful free kick in the first few minutes. Could it at last be coming home?! 'Still believe…'
Sadly, the series of texts ended with Chris ended 'Belief has gone'. The dream ended in extra time, and although France went on to win the Cup, Gareth Southgate and the team came out of the tournament with huge credit.
As the World Cup was taking its course, though, we were all gripped with the unfolding story of some other footballers. The 12 members of the Wild Boars children's team and their coach in Thailand had cycled to the Tham Luang cave complex after football practice as a fun activity because none of them had been inside before. The plan was to spend an hour in the caves but as they reached a junction on the way out, they saw the water rising.
The coach realised it would be too difficult for the team to leave, so he took the 12 boys deeper in to a place where they could rest for the night, hoping the water level would drop by the morning. Before they all bedded down in the damp cave on that first night, the coach said they all prayed together.
The team had no food with them and as the days passed with the water continuing to rise, the boys described feeling weaker. The team's youngest member, 11-year-old Chanin, said: "I had no strength. I tried not to think about food so I didn't get more hungry." They kept hydrated by drinking the water, which dripped from the cave walls.
I can't begin to imagine what it must have been like for the parents and families as they waited for news.
After ten long days, when many had almost lost hope of finding them, two British divers finally came across the boys sheltered on a shelf deep in the cave. It was one thing to know where they were, but quite another to get them safely out along a route of several miles.
A group of Thai navy Seals joined the boys and stayed with them throughout the rescue operation, bringing them food and playing games with them, until the last boy was out of the cave. The boys described the Seals as like family, saying: "We ate together, slept together". One boy described a Seal as "like my dad". Several of the boys told the press conference after that they wanted to become navy Seals when they were older.
One of the brave Seals lost his life in the rescue, underlining just how difficult it would be. Thankfully all the boys and their coach emerged safely over three days.
None of us will have to face anything like that, I hope, but keeping the faith can sometimes be really tough. St Paul speaks about the harsh realities of life that he faced and the unbreakable faith that sustained him through difficult and dangerous times. He catalogues some of the difficulties he encountered: prison, floggings, stoning, shipwreck, and being robbed, starved, and abandoned. Paul was qualified to speak on the subject of hardship.
As if all that were not bad enough, some of Paul's critics in Corinth were kicking him while he was down by suggesting that that all the bad things that had happened to him were confirmation of God's judgment on him. In response to all that, Paul wrote that God's grace was sufficient. When I am weak, then I am strong.
May we…Still believe…keep the faith…!
---
Thought for July 2018: Ordinary Time?
I'm very aware, when making up the list of services for the back page of Catch this, that at this time of year, it might easily look like things are more than a bit dull. This month, apart from remembering the colourful figure of Mary Magdalene on the 22nd, we have now entered the long season of "Sundays after Trinity". This part of the annual cycle will see us through the summer and well into the autumn.
It could be worse. Some call it "ordinary time"! After the wonder of Christmas, the solemnity of Lent, the darkness of Good Friday, the joy of Easter, and the fire of Pentecost, it's now, just plain… ordinary. It does seem a little strange to have a dedicated period of ordinariness, a kind of default season with no particular theme.
But that's how life is. We have highs and lows, but a lot of the time, things just tick along. For many people living through suffering, stress or sorrow, ordinary is what they yearn for. I recently came across a traditional Chinese curse, "may you live in interesting times". The unspoken flipside of that, which we can presume would be given as a blessing, "may you live in ordinary times". When we say Evensong at Rowberrow, the second collect prays that we "may pass our time in rest and quietness."
But ordinary time isn't about nothing happening. The liturgical colour for the season is green, a colour of life and growth and maturing. Although times of challenge and change in our lives do cause us to learn and grow, we also need times of rest, of quietness and ordinariness for the slow and steady rooting of our lives in God, and growth as followers of Jesus. Ordinary time isn't a time to stop and do nothing, but a time to pay attention to growing in faith.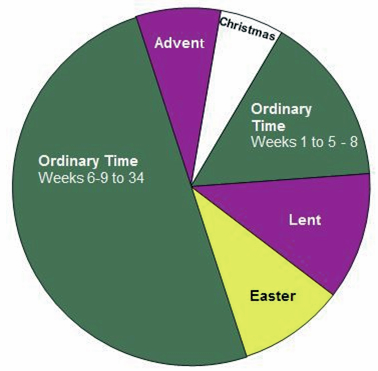 Ordinary Time actually means ordered or numbered time, and is celebrated in two segments: from the Epiphany to Ash Wednesday; and from Pentecost to the beginning of Advent. This makes it the largest season of the Liturgical Year. Ordinary Time is this day, this moment. Now.
Last year Marcia Dumler decided that since so many things seemed to be going wrong in her life, she would concentrate on trying to see the good things God was doing. She did this in a tangible, practical manner, and made a special effort each day to email one of her friends and share something good that had happened. Sometimes it was a small thing, like finding a coin on the pavement. Other times it was larger, like being given a washing machine when hers broke. At times it was a simple act of kindness, like the time a neighbour cleared the leaves from her drive. As the days went by, it became obvious that God was continually showering good things on her, and before she hadn't really noticed.
What a difference it might make to become aware that God has a gift for us each new day!
Another way of making the ordinary extraordinary is to find ways to put our faith in action. Faith that is just head knowledge can easily become stale. This might mean volunteering at the Foodbank, or doing a shift at Lenny's café. You can act out your faith in smaller, more homely ways too. For instance, Jesus told us if we have two coats, we should share with those who have none. Most of us probably have a number of barely used coats or clothes in our cupboards, and so cutting down on them could be a great place to begin. Read about Somewhere To Go on page 5 for an idea of what to do with them.
During Ordinary Time, simplifying, eliminating and giving away those things that we no longer use can become a great act of faith... and a great faith-builder.
May we make the most of these ordinary, extraordinary times.
---
Thought for June 2018: The Princess and The Goat
On 18 May many of us gathered in Axbridge Church to celebrate the life of Sue Latimer, an amazing person who has left her indelible mark.
She also left plenty of instructions/requests about what kind of memorial service she wanted, including three hymns: The Pilgrim Song of John Bunyan "complete with hobgoblins and foul fiends - the lot"; a wonderful Easter hymn Now the Green Blade Rises, and People look East ("I don't care it's not Advent, the words are absolutely glorious"). She wanted Psalm 84 read in the Prayer Book version, and it was beautifully by Dan Richards. We were also told: No mourning. Bright colours, floral prints and frilly bits.
None of us will forget her love of animals. She was a keen vegetarian, and a member of the Anglican Society for the Welfare of Animals. She also regularly took animal services at Pawlett, which she loved, and not long ago she told me that she had became godmother to a goat. Nothing much surprised me about her! We joked that she would be remembered by The Princess and the Goat. It sounds like a fairytale-but they were just two of those touched by her life. The princess is another tale.
Sue loved playing with words. She was proud to be a published author, and was a storyteller and poet. Not long ago a series of her Spoken Stories was published, and I well remember one Easter Eve in the candlelit church of Rowberrow as she vividly recreated the scene of the first Easter night.
She became a television celebrity when the BBC made a series of documentaries about life in cathedrals. She featured in the one about Wells, a place she loved, and was a chaplain. All sorts of conversations flowed from her dangly earrings. The photo on the back of the order of service had her in this role, dangerously with a microphone in her hand. She always had the potential of leaving it on by mistake and saying something untoward.
She had the ability and experience not to be shocked by anything. She'd been there herself, and was very up front about her past addictions to drugs and alcohol. The wisdom of the 12 Steps of AA was often woven into sermons. Her experience gave her rich reserves of understanding and empathy, which made her what Karl Jung called a Wounded Healer.
When the bar stool was out in church people knew that Sue was preaching. One couple would look at one another and say, "And now what?!" None of us were sure what to expect, sometimes it was brilliant, sometimes it was what we might politely call left field, but you could always expect something fresh and full of insights. Conventional or boring she definitely was not!
Perhaps one of the things that has impressed many of us most has been the way she has faced her illness and impending death. Death, she taught us, is not something to be hidden and whispered about, but a normal part of life. She wrote in Catch this back in August last year: 'This summer is fading, maybe next year's will be better. What is different this time is that I don't know if I or my little dog will be around to see it. We've both got serious illnesses. We're both medicated to the eyeballs to delay the inevitable outcome and we're both enjoying life, if somewhat slowly…
We need to remember that we simply can't imagine whatever lies ahead, which, like the concept of God, is really unimaginable. This is wonderful because my imagination may be vivid, but it is also limited. There's a lot more to life, eternity and everything else than I can manage to dream up….' She also said, 'I believe in Life before Life, during Life and after Life, all the same life only we don't remember it while we are here. But if we look or listen properly, we can see eternity in a big bowl of trifle. And angels.'
In that faith we commended Sue to God with love and thanksgiving for all she has shared with us as friend and colleague.
---
Thought for May 2018: Thy Kingdom Come
During ten days in May we are encouraged to join in a line from the Lord's Prayer 'Thy Kingdom Come'. The invitation is to pray between Ascension Day on 10 May and Pentecost on 20 May for friends and family to come to faith.
This annual global and ecumenical prayer movement is now in its third year. Year by year the number of those joining in has grown. In 2016, 100,000 Christians pledged to pray. By 2017, more than half a million had pledged to pray across the country and in more than 85 countries from Australia to Cuba, from Japan to the Falklands. It is exciting too that many branches of the Christian family are taking part.
The website that has been set up (www.thykingdomcome/global) has all you need to get you started if you want simply to pray quietly at home.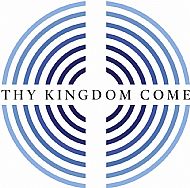 We are joining with our ecumenical partner churches of the Cheddar Valley, and there will be prayers across the valley each morning.
In Axbridge Church we will have some prayer stations, with prompts for our imagination.
The highlight this year locally promises to be a pilgrimage walk from Cheddar to the wells at the Bishop's Palace in Wells on Saturday 12th May. This is a stunning walk along the south side of the Mendip Hills, and is part of the West Mendip Way. It takes in views of Cheddar Gorge, the Somerset Levels and Ebbor Gorge, and passes by the Wookey Hole Caves, finishing at the Wells in the Bishop's Palace in Wells, a site of ancient Christian worship.
The day will begin at 8am with prayers at Cheddar Baptist Church.
The walkers will leave there at 8:45am, and aim to arrive at Priddy Church/Village Hall at about 12:15pm.
After lunch the group will leave Priddy and arrive in time for worship around the wells at about 4:30pm.
If you would like to do some, or all, of the walk, please let me know.
The Archbishops of Canterbury and York write:
Jesus Christ is the Saviour of the world. He brings us hope. Christian disciples are made alive by his saving grace in the power of the Holy Spirit to witness to this living hope. The difference that the love of Jesus brings to individuals and the world is eternally transformative. When Jesus teaches his disciples to pray, he puts the cry, 'Thy Kingdom Come' on their lips. When we pray for the coming of the Kingdom we are praying for the difference Jesus makes. In the days between Ascension Day and Pentecost we pray each year for a fresh outpouring of the Holy Spirit throughout the Church. We do this, so that, filled with the life-giving Spirit, we are enabled to proclaim and bear witness to the Good News of Jesus Christ, so that families, friends, neighbours and colleagues discover and experience for themselves the difference Jesus makes.
Among the stories arising from the initiative last year - many of them deeply moving - is one from a couple who had not seen their son for 22 years. 'We pray every day obviously for him but during Thy Kingdom Come he was one of the people we prayed for as a group,' they say. 'We put his name on the altar before God and … yesterday he came home.'
Christian Aid Week (13-19 May) also falls within the ten days of 'Thy Kingdom Come'. This makes the vital connection between the coming of the Kingdom of God and Jesus' mission to bring good news to the poor, liberty to captives, recovery of sight to the blind, and announce the year of God's favour. Thank you to all who are involved in the house to house collection, and those who generously give for this valuable cause.
For those who followed Jesus, the time between Ascension and Pentecost was a time of waiting, a time to look back to when God had been real to them because of the electric presence of Jesus among them. It was also a time of wondering: what was going to happen next? What would the promised Holy Spirit be like? Those elements of waiting and wondering are at the heart of what we are doing too!
---
Thought for April 2018: What is their Legacy?
In recent weeks there seems to have been a spate of famous people that have died. We are left to read their obituaries and consider their legacy.
Roger Bannister was a childhood sporting hero of mine. His sub four minute mile at the Ifley Road track in Oxford back in the days of amateurism still stands as a milestone in athletics. He also made his mark as a distinguished neurologist.
Ken Dodd may be described as a king of comedy. His stage performances were legendary, often going on until midnight, as the laughter of the audience fuelled his adrenalin levels.
More influential, though, was the life and work of Professor Stephen Hawking, my near names' sake. (He got the brains and I got the extra 's'!) His Brief History of Time sold over 10 million copies and his goal was to describe gravity, space and time. He has given us some of our greatest understanding of life, the universe and everything, including black holes, and leaves behind a formidable scientific legacy. The way he coped with his debilitating illness has also been an inspiration to us all.
Professor Hawking thought science should be able to give the reason for the start of the universe. Professor David Wilkinson, a scientist and priest, said that in the process Hawking "demolished smaller Gods, and left us with the bigger, Biblical God". "He reminded us who are of faith of the weakness of any 'God in the gaps' or deistic view of God, and pointed theologians towards a God with the universe in the palm of his hand."
Stephen Hawking, though, did not share this view of a deity. In The Grand Design, he writes: "Because there is a law such as gravity, the universe can and will create itself from nothing. Spontaneous creation is the reason there is something rather than nothing, why the universe exists, why we exist. It is not necessary to invoke God to light the blue touch paper and set the universe going."
As we celebrate the memories of these people, and consider the impact they have had, we are about to keep the Easter festival. We are reminded of the impact of the life and death of Jesus. As someone described it:
"Here is a man who was born in an obscure village, the child of a peasant woman. He grew up in another village. He worked in a carpenter shop until He was thirty, and then for three years He was an itinerant preacher. He never owned a home. He never wrote a book. He never held an office. He never had a family. He never went to college. He never put his foot inside a big city. He never travelled two hundred miles from the place where He was born. He never did one of the things that usually accompany greatness. He had no credentials but Himself…. While still a young man, the tide of popular opinion turned against Him. His friends ran away. One of them denied Him. He was turned over to His enemies. He went through the mockery of a trial. He was nailed upon a cross between two thieves. While He was dying His executors gambled for the only piece of property He had on earth - His coat. When He was dead, He was taken down and laid in a borrowed grave through the pity of a friend.
"Twenty centuries have come and gone, and today He is the centrepiece of the human race and the leader of the column of progress. I am far within the mark when I say that all the armies that ever marched, all the navies that ever were built; all the parliaments that ever sat and all the kings that ever reigned, put together, have not affected the life of man on this earth as powerfully as has that one solitary life."
What a legacy!
Happy Easter.
---
Thought for March 2018: Getting Rid of the Rubbish
The natural history series Blue Planet II, which was televised just before Christmas, had a huge impact on those who saw it. Many of us were enthralled by the wonder of life in the oceans, but equally horrified by what mankind has done to spoil the marvels of the deep with rubbish. Not surprisingly the series won the National Television's special Impact Award for its part in raising awareness of the deadly plastic pollution which is killing marine life and upsetting ecosystems in the world's oceans.
We can't now avoid the fact that our oceans and coastlines are choking. We've all seen plastic bottles, food wrappers and plastic bags messing up the beaches, and now been confronted by disturbing pictures of creatures like seabirds and whales starving when their stomachs become packed full of plastic. The sight of the sight of a pilot whale mother forlornly carrying her dead newborn calf, thought to have been poisoned by milk polluted with plastic caused an outcry.
We are told that up to 12 million tonnes of plastic is entering our oceans every year. That's the equivalent of a fully loaded refuse lorry every minute. Single-use plastic packaging for food and drink is a particularly important element of this problem. Many people have also been horrified to discover that tiny pieces of plastic known as microbeads have been added to all sorts of personal care products that are simply washed down the drain – from shower gels to toothpaste. There have got to be ways of reducing how much rubbish we produce and what we do with it all…
For us Wednesday is bin day, or rather, bins day. We have made good progress in separating garden waste and food waste, paper, tins, glass and plastic into the various recycling bins, not to mention the kitchen peelings and things that can go straight onto the compost heap. But despite all this our country still lags behind in the amount of waste recycled, with a UK average figure of 18%, half the EU average of 36%. We also produce more waste per head of population that cannot be recycled than many of our European neighbours.
This month is traditionally time for doing something about our rubbish. I understand that there is even a Spring Cleaning Week from 5th – 11th March! The idea of de-cluttering the home is very attractive. But where do you start…?!
Lent, which runs through to the end of March, is about a different kind of spring cleaning, this time on the inside. Lent is the time of preparation before Easter when Christians think carefully about themselves. It's the time to think about the things that need changing (cleaning) and to ask God's help. It is relatively easy to clean up a room and make it look good, but how do you clean up the inside of a person? How do you clean up thoughts and actions? We cannot clean up on the inside without God's help.
I recently came across a piece by the American writer Barbara Brown Taylor. In it she speaks of following Jesus into the wilderness experience:
"I sat in the desert once myself, just to see what it was like. The first thing I noticed was how quiet it was, so quiet that I could hear the racket my own body makes—gurgle, wheeze, thump. Did you know that when you get quiet enough you can actually hear the hum of your own electricity? It makes about as much noise as the motor on a small clock, only most of us don't hear it because of all the other noises around us. In the desert you can. The second thing I noticed was how fast I got lonely. There is something about a desert that can suck all the self-confidence right out of you. It is so big, so quiet, so empty that you can't help noticing how small and perishable you are. You remember that you are dust and to dust you shall return."
Happy de-cluttering, and happy Easter when it comes!
---
Thought for February 2018: 40 Stories of Hope
I spotted some snowdrops by the roadside in Shipham this week. It's always an encouraging sign that spring is just around the corner. In February we begin our journey of Lent, which is sometimes called the springtime of our souls.
Pretty much all of us face tough times during our lives and difficult challenges. We need hope to keep us going. During Lent this year we are encouraging people to use a book called 40 Stories of Hope. It takes us on a journey through St Mark's Gospel. We travel with Jesus from the River Jordan where he was baptised, to the city of Jerusalem where he was crucified and buried, and where he rose from the dead. These events happened 2,000 years ago, but speak of a living faith for today.
Hopefully as we make this journey, we will be gain fresh insights by reading Jesus' life in the light of some extraordinary and contemporary stories. Each day there's a story by a prisoner, a prison chaplain or ex-offender, and the hope that they have found, and how faith has turned someone's life around. Almost all of them are people, who are alive today.
There are also other verses to read each day from the Bible, something to think about and a prayer. As you read the stories and verses, we are encouraged to ask God to speak to us about our life experience and expect to be moved through what we read. Daz, one of the contributors, says, 'If God can change me he can change anyone! He has helped me rebuild my life, and I have a love in my heart that is indescribable.'
There are some important themes that run through the stories: forgiveness, dealing with guilt, finding freedom, healing, and the overwhelming goodness of God.
"This is an extraordinary book," writes Justin Welby, "a book of hope and reconciliation, a book of transformation and journeys. These 40 stories are a vital reminder of the hope that Jesus gives. They show us how lives can be transformed, and forgiveness can be found in the most unlikely places. There is no one, no life, no story that is beyond God's power to love and transform. Reconciliation is at the heart of it: reconciliation with ourselves in the face of shame and guilt about the past; reconciliation within families, friends and relationships, and most importantly, reconciliation with a loving God in the person of Jesus Christ."
The book is particularly appropriate for Shipham. The patron saint of the parish Church is Leonard, who as an idealistic young man in sixth century France, became concerned at the conditions in which prisoners were kept and dedicated himself to visiting them and trying to improve their living conditions. The king, Clovis, was so impressed by his integrity that he granted him the privilege of deciding which of them could be safely released. According to legend, prisoners who invoked him from their cells saw their chains break before their eyes. For many years Shipham Church has supported chaplaincy work in prisons. Most recently we have supported an organisation called Changing Tunes, which uses music to give people a new sense of purpose and hope.May we find that hope for ourselves this Lent.We ran out of space on this page so some of the earlier thoughts were moved to Old Thoughts... so you can still enjoy them.
Last Updated by AG 8 April 2021